Colours of Fortune – Discover Your Lucky Colour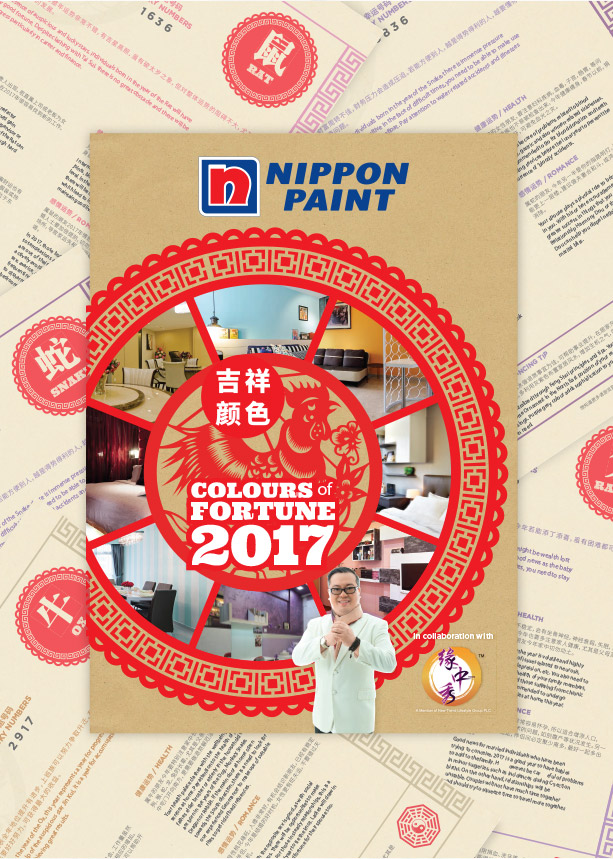 The importance of colours cannot be underestimated, and if used appropriately; colours could lift moods, evoke happiness and bring successes into our lives. A correct application of colour choices can draw in enormous luck to your life, work, home and family harmony to attain divine blessings. As different spaces require you to adorn it with different colours; modern Feng Shui guides you on colour coordination techniques to create stylish spaces and beautiful homes.
A splash of colour is sometimes all it takes to brighten and refresh your surroundings. Nippon Paint provides many colours, shades and hues to create unlimited possibilities in home! With Nippon Paint Colours of Fortune 2017, discover the colour that matches your zodiac sign and your Eight Characters to enhance prosperity factors, build your dream home and open the doors to greater happiness!
Nippon Paint Colours of Fortune 2017 helps to add colours into your life and build your dream home, especially for this Year Of The Rooster. Paint to an abundant year of 2017!
We've made every effort to make the colours on screen as close as possible to the ones you'll use. Unfortunately, we cannot guarantee an exact colour match. Photographs and paint swatch colours will vary depending on your screen settings and resolution. The site is designed to help you get a better idea of your colour scheme ideas. If you would like to find out more about a colour, we recommend that you
request for a Nippon Paint brochure
.