Dream Home: The One and Only #FNLHome
Fun-loving couple Fauzie and Nurul saved some legwork when a friend connected them with Icon Interior Design. Though they'd done their homework and more or less knew what they wanted, they remained open to the excellent input from their designer Shafee. The result is a home full of personality, just like the homeowners themselves!
Project Snapshot
Name(s) of Homeowner(s):
Fauzie Laily and Nurul Huda
House Type:
BTO 4-room HDB Flat
Size of Home:
93 sq m
Cost of Renovation:
$48,000
Duration of Renovation:
2 months
Interior Design Firm:
Icon Interior Design
Name of Designer(s):
Shafee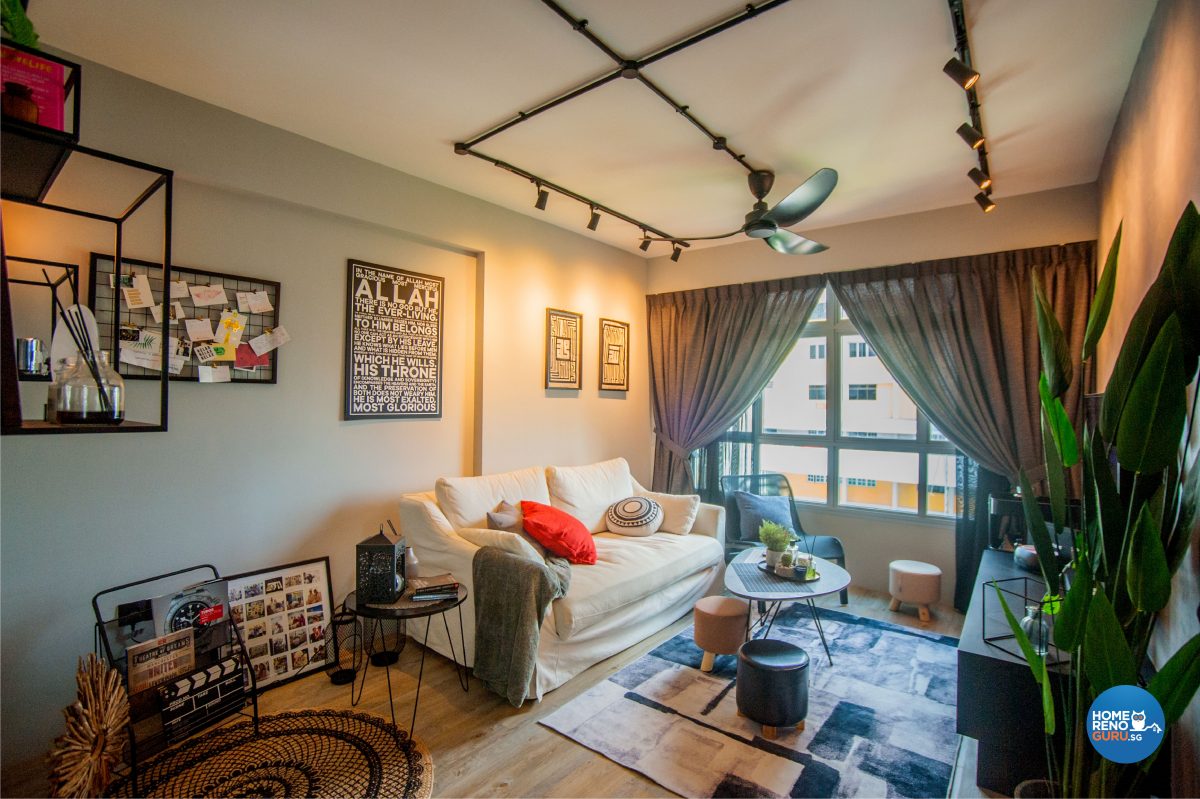 The modern industrial living area of #FNLHome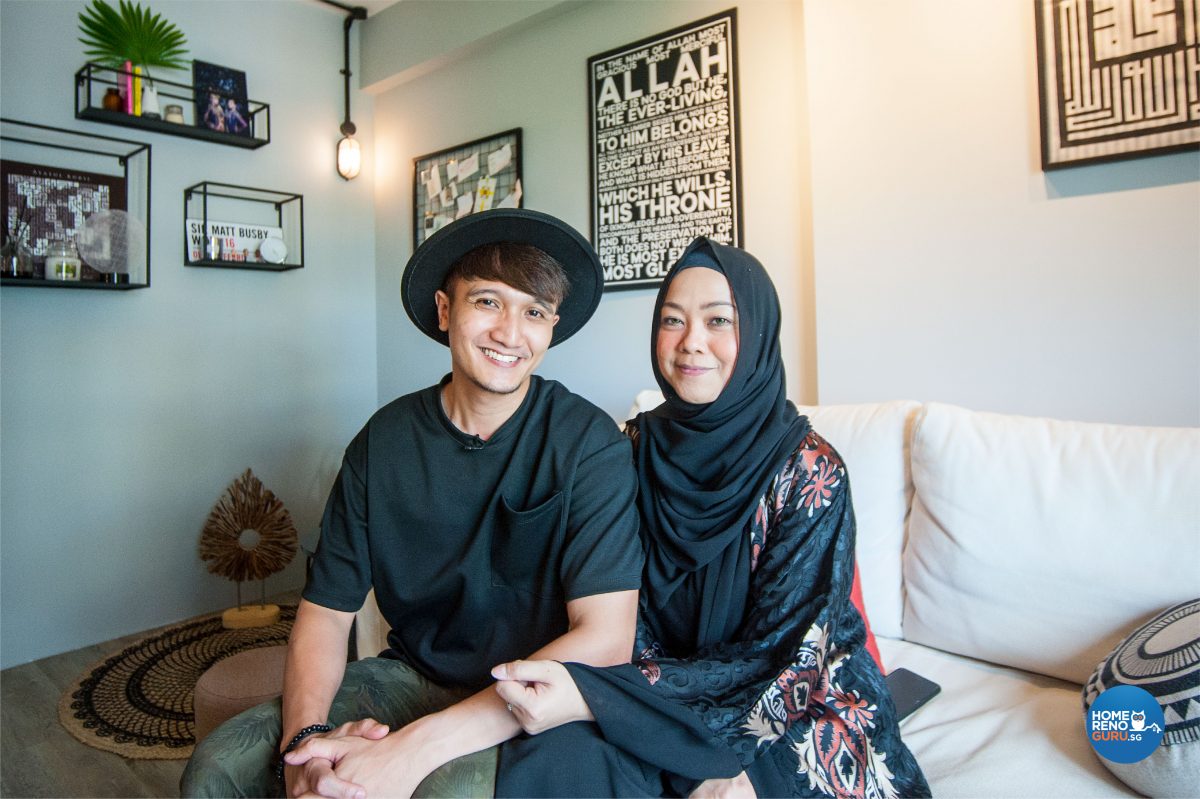 Happy homeowners Fauzie and Nurul
HomeRenoGuru:
How did you come to engage Icon Interior Design for the renovation of your home?
Fauzie:
A friend of ours contacted us and asked if we wanted to connect with an interior design company. We said okay, so he introduced us to Shafee from Icon Interior Design. We had a good feel about him and liked how he communicated with us, so we decided to go with him.
HomeRenoGuru:
How did you brief Shafee?
Fauzie:
We looked through photos and gathered ideas from online research before we went back to him. In terms of design, I think I was leaning towards the greyish tone for the house, a greyish black tone. Then I wanted a touch of wood also, especially for my kitchen area. So that's one thing that I was really, really insistent on, and Shafee managed to make it work. After he gave his own input, we decided on a modern industrial theme
HomeRenoGuru:
What was your timeline like?
Fauzie:
We received our keys early December and wanted to move in as quickly as possible so we asked Shafee to complete this project completed as soon as possible. He had to shift certain things around in terms of he timeline so that we could move in before Chinese New Year. Though it was quite a rush, we communicated well and smoothed out certain details as quickly as possible. Within two months we actually managed to move in.
The island area of the open concept kitchen and dining area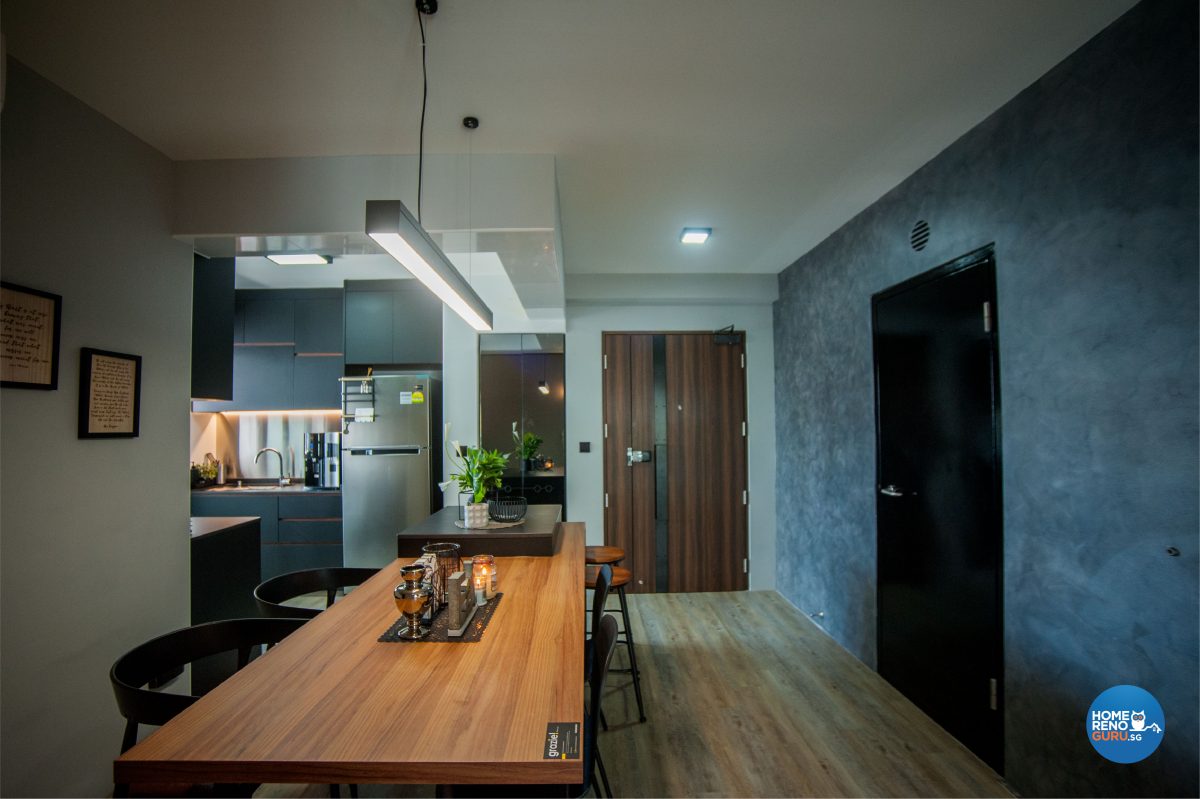 The dining table is made form scratch-resistant Kompacplus
HomeRenoGuru:
What are your favourite parts of the house?
Fauzie:
My favourite part of my house is my dining area. To achieve this, I I had to hack a wall. For this area, I wanted a wooden feel. And as you can see, the dining table looks very wooden but it's not. We worked with Kompacplus for this, and the best part of this dining table is that it's anti-scratch, so we have our meals here.
The island area is my personal favourite, because you seldom see an island in an HDB home, but I insisted on one. For the tabletop, we used Silestone which is heat-resistant, because it's near to the kitchen. We have the Line8 switches here too, so that Nurul can use the air fryer and other appliances over here. As you can see, aesthetically it looks nice and you can just move around the switches, so you can use this space really well.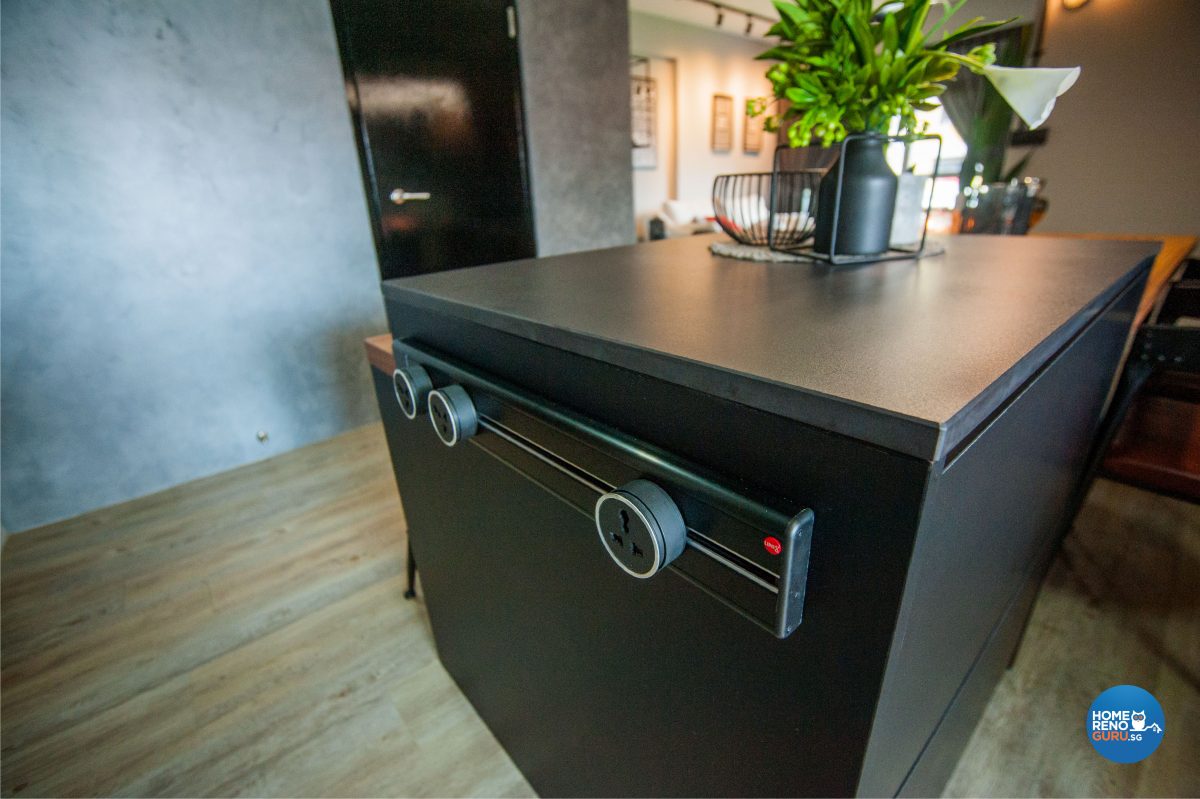 The island area is fitted with power points for the small kitchen appliances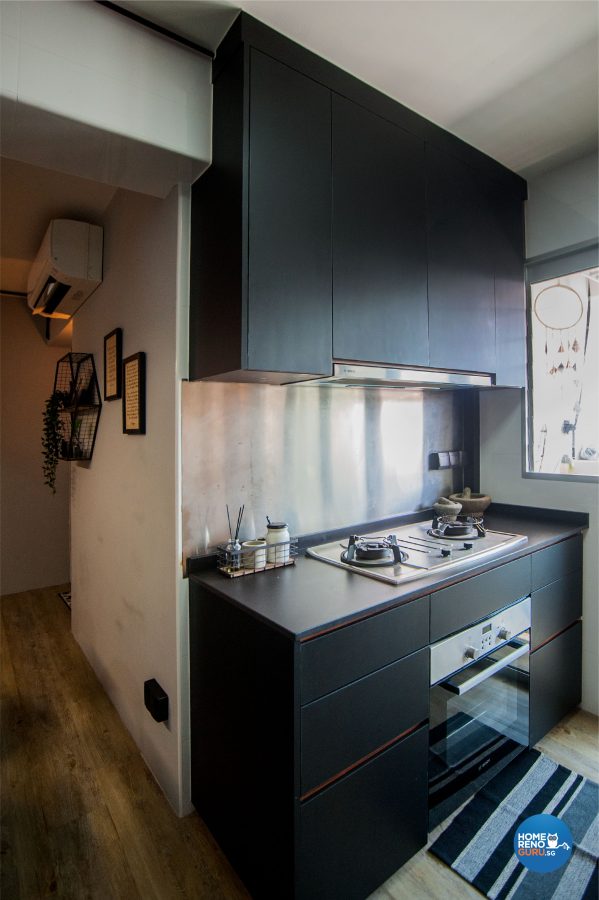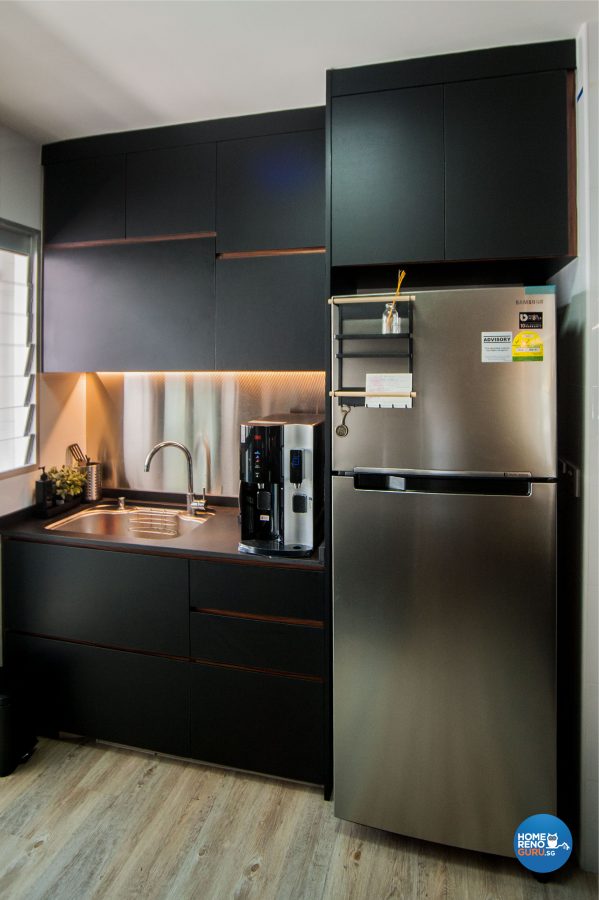 The compact kitchen is sleek with black laminate cabinets and a stainless steel fridge
And for the kitchen area, as you can see, I wanted matte black louvres together with the wooden feel. We used the Blum soft-closing system for all the cabinets here in the kitchen. It doesn't slam at all. It's perfect - lovely!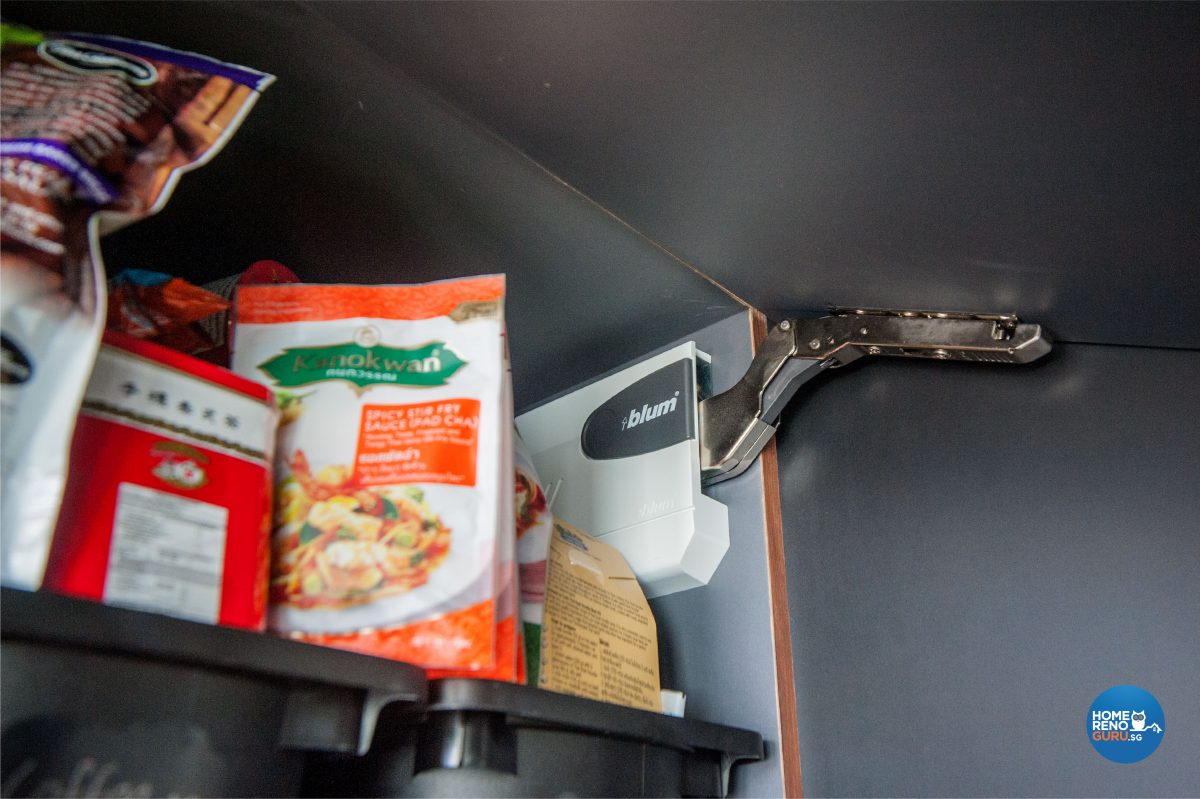 All kitchen cabinets are fitted with Blum soft-closing hinges
And over here is my living room. This is where I chill with my wife and watch TV. As you can see, my curtains are grey and my walls are grey, but to add a little bit of texture to this area, I used the
Momento from Nippon Paint
for my feature wall. I think it's really great. It adds a different feel to the whole look of the living room.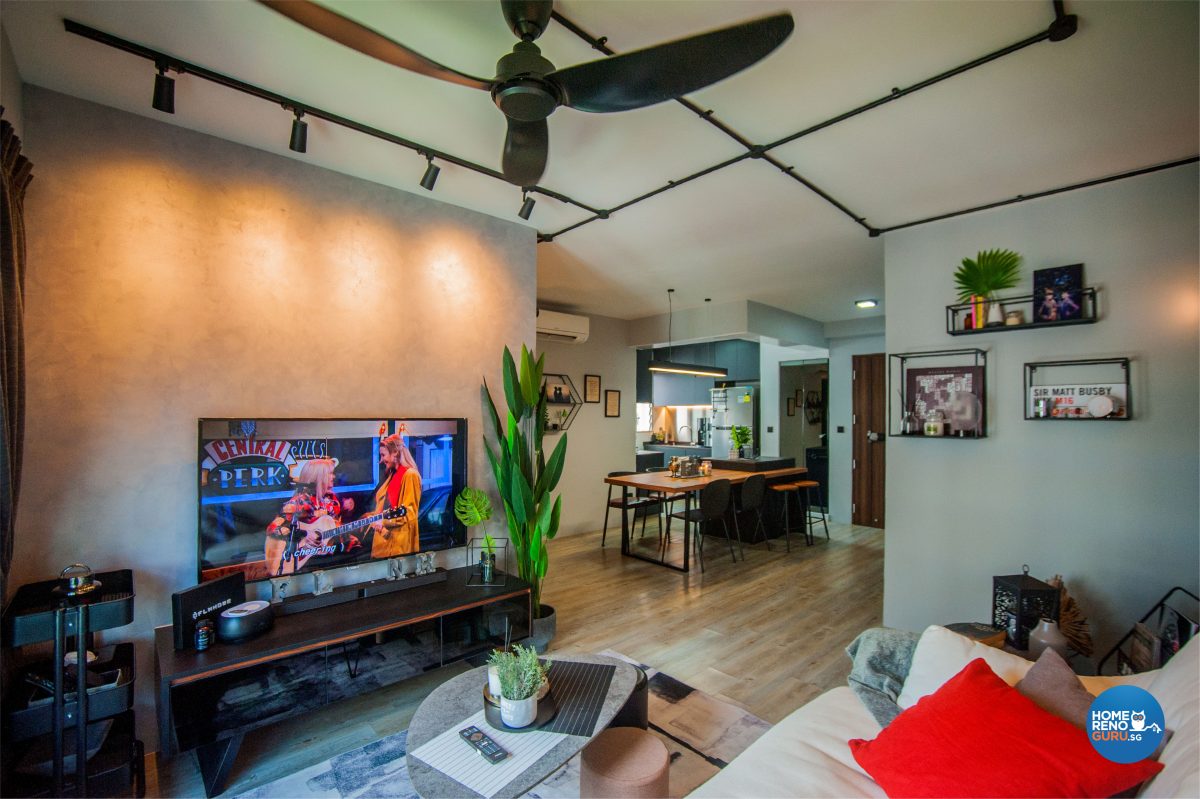 Track lighting highlights the TV set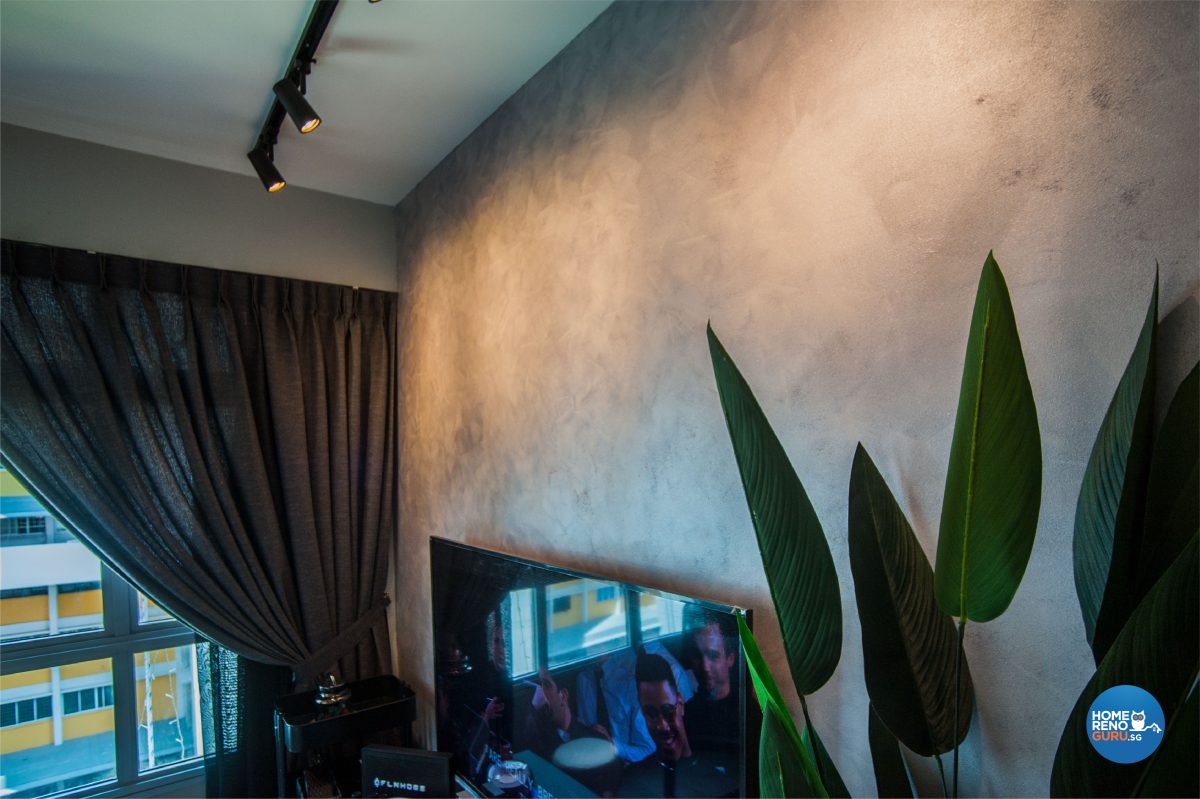 Nippon Paint Momento special effects paint adds texture to the living area wall
We also love our doors. We worked with United Doors for these, and we used the Arova laminates for our doors. As you can see, even though it's matte black, it's antique and anti-fingerprint. It looks really classy and sleek-looking.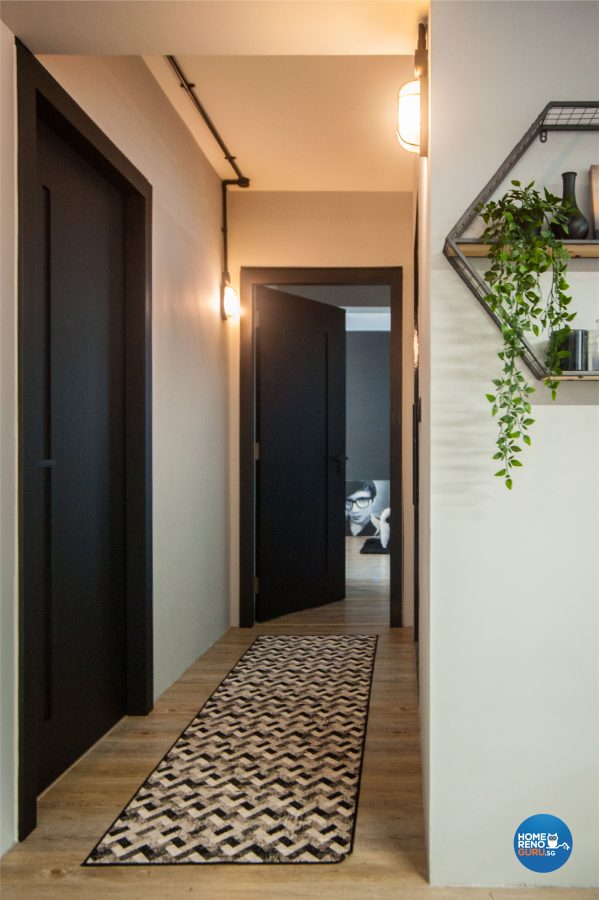 Woograin flooring adds warmth to the industrial vibe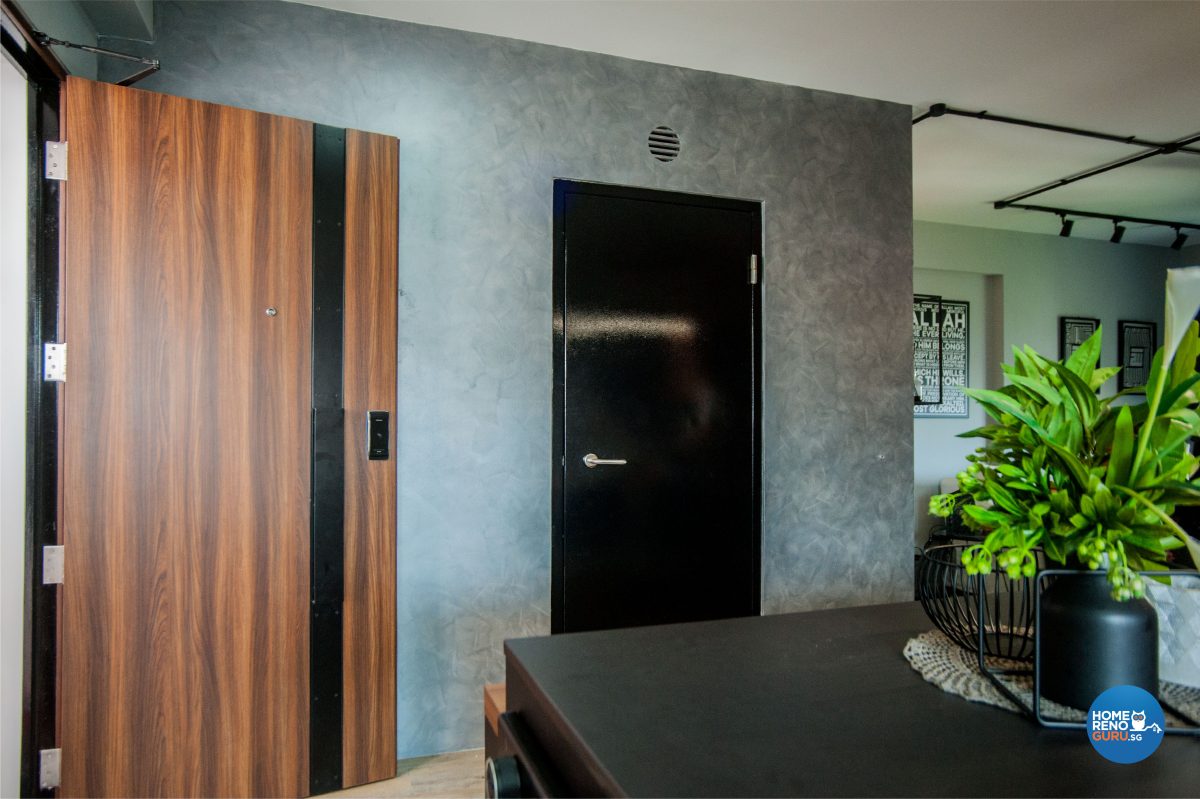 Statement-making doors are by United Doors
And this is our bedroom – Nurul's favourite part of the house. We were inspired by Icon Interior Design's showroom, actually, when we went there for meetings. We saw this exact bedhead idea in their showroom and we asked them to replicate it as close as possible including the side tables. Whenever people come into our room every time, they say – wow, your room looks like a hotel room. It's cosy, with all the LED lights and everything. It's really lovely and we are really happy with our room!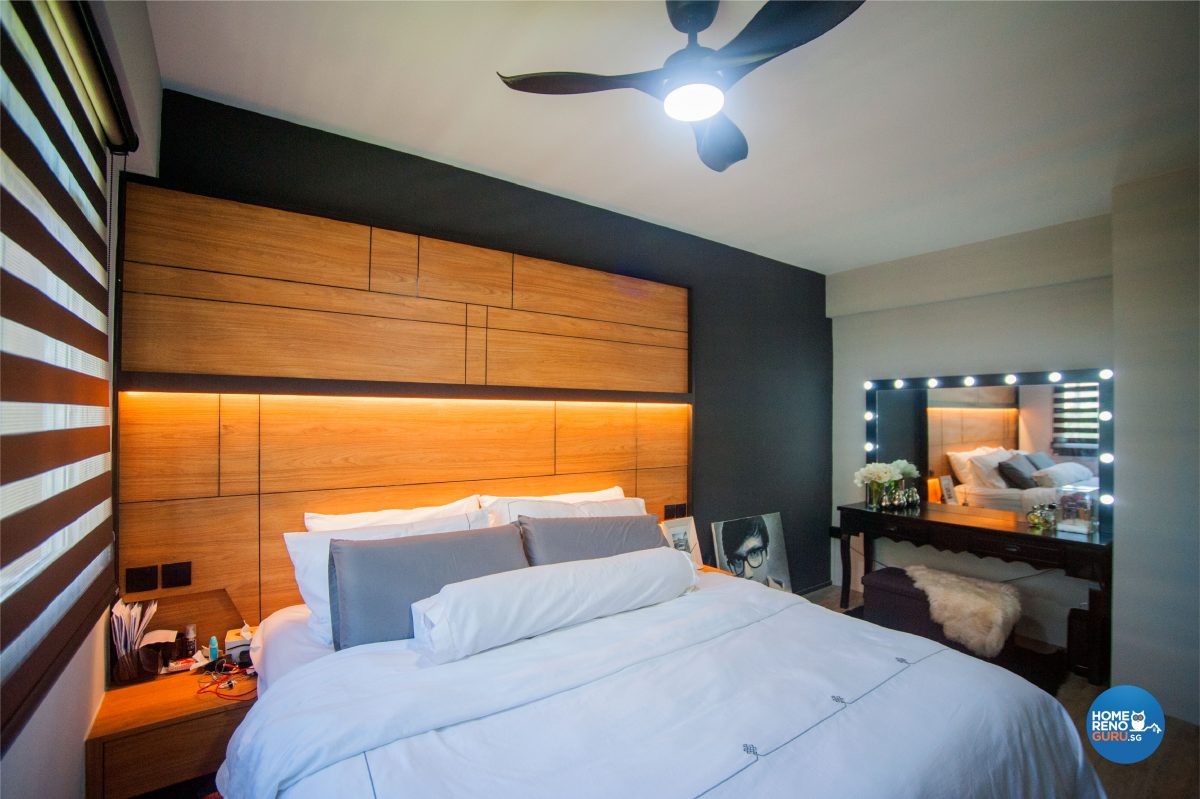 The bedhead is almost an exact replica of the one in Icon Interior Design's showroom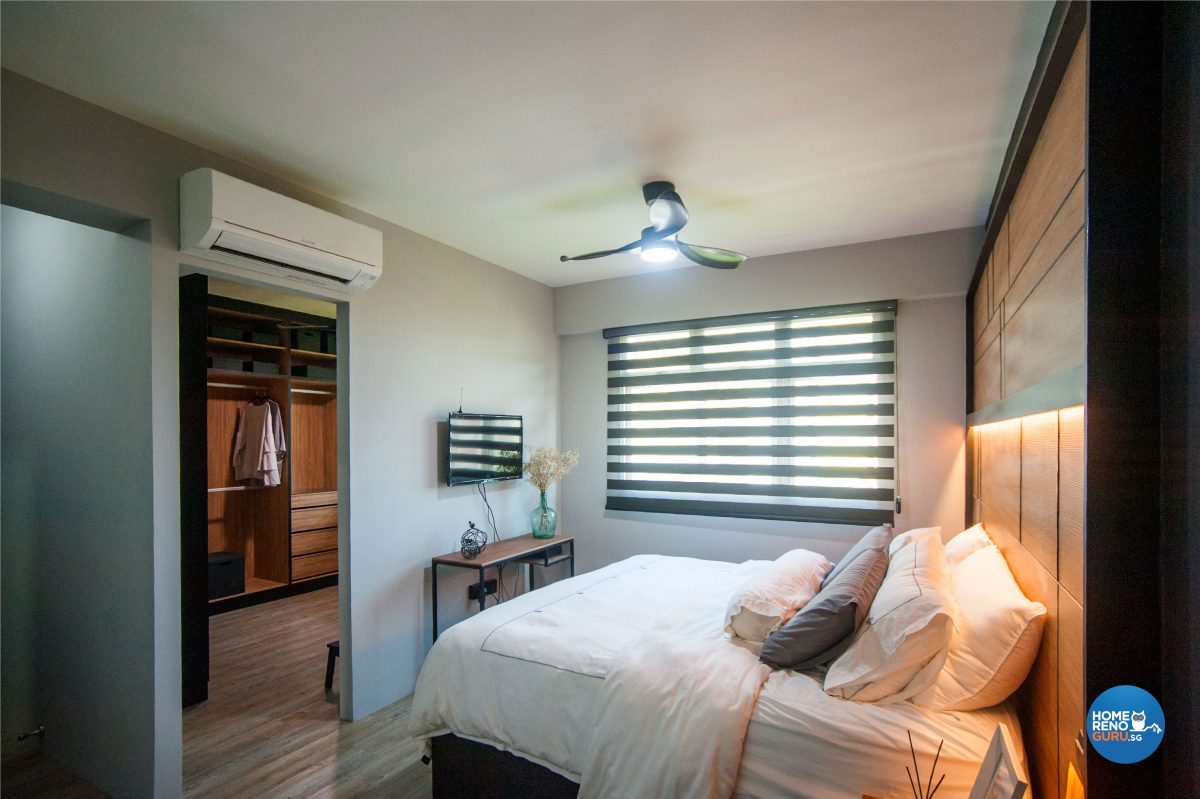 A walk-in wardrobe adjoins the master bedroom
Nurul:
Hey guys, welcome to my favourite part of the house – my walk-in wardrobe, ta-dah. As you can see, we have a lot of clothes, so I gave Fauzie this side, it's enough for him, and this is all my area. So in the morning when I get ready for work, I can look through all my clothes and I don't see Fauzie's clothes in between. But we get to share the shoes area.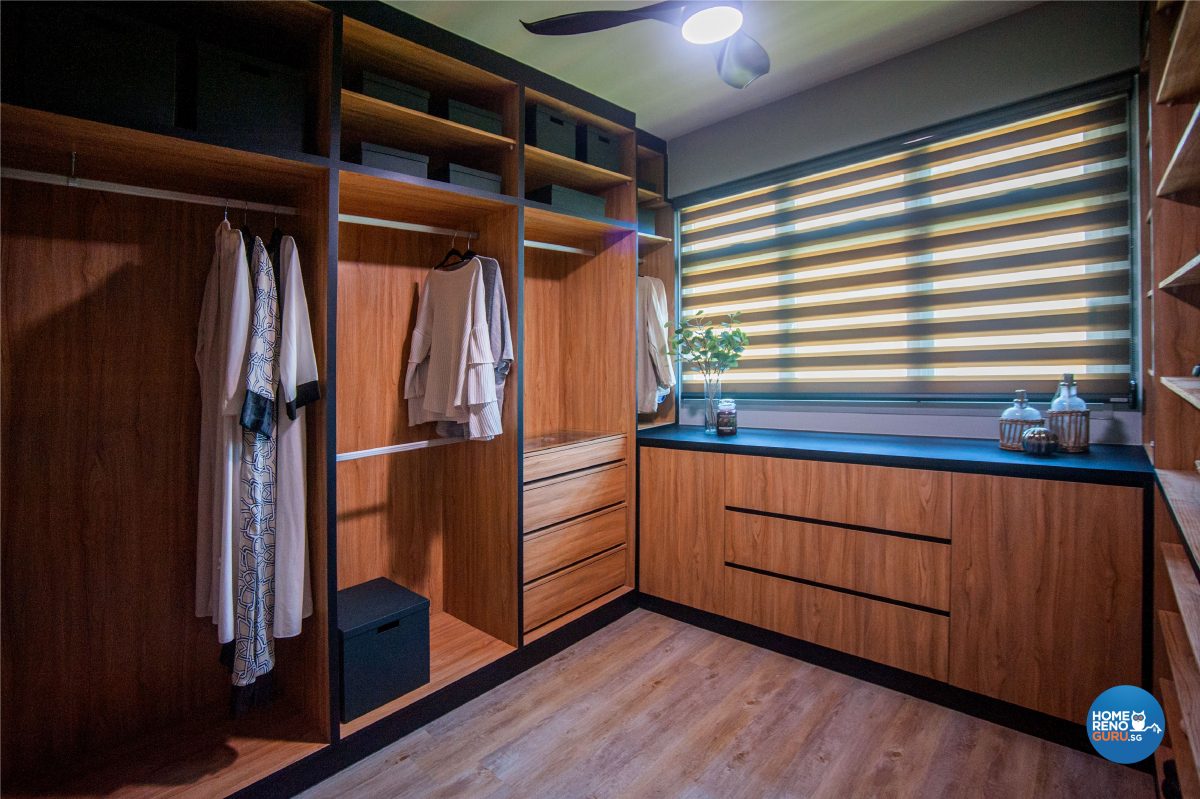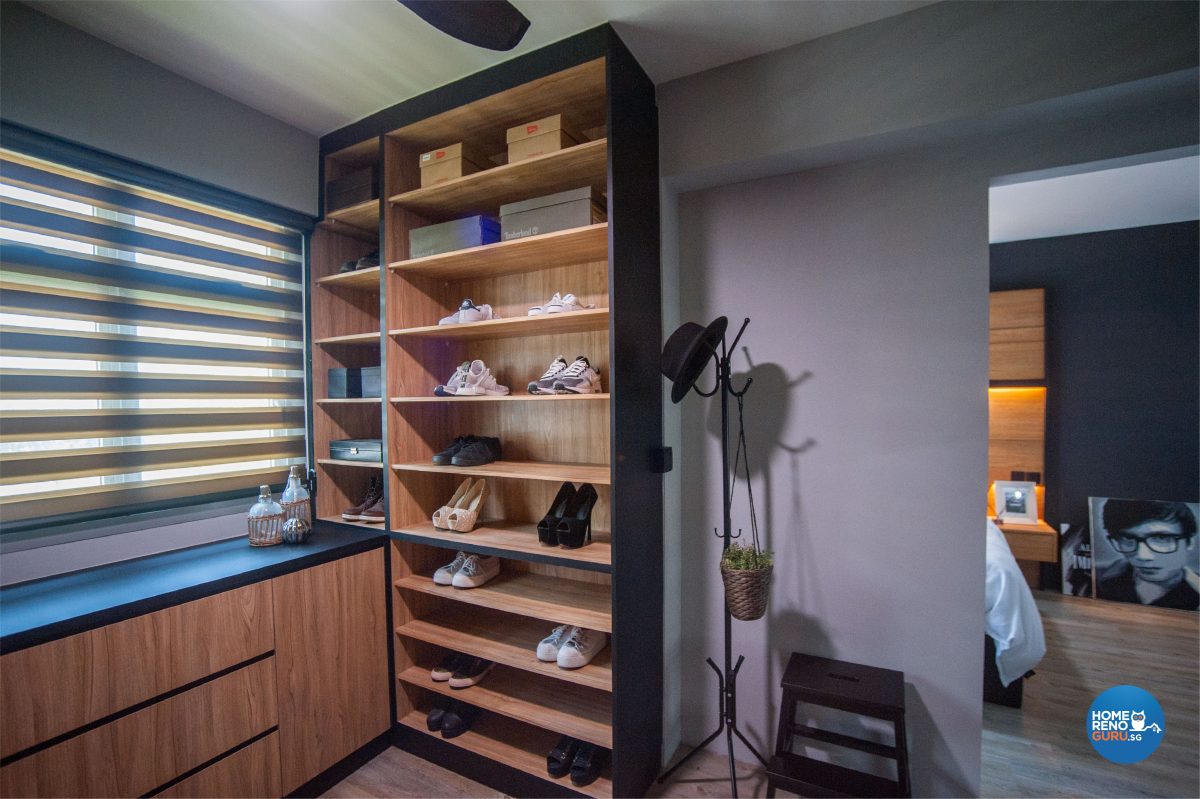 Nurul's pride and joy – the walk-in wardrobe!
Fauzie:
What's most important about this room is that it's actually the other bedroom. We sealed off the actual door and we hacked down a wall so that we could link it to the master bedroom. So this is our walk-in wardrobe.
Nurul:
My pride and joy!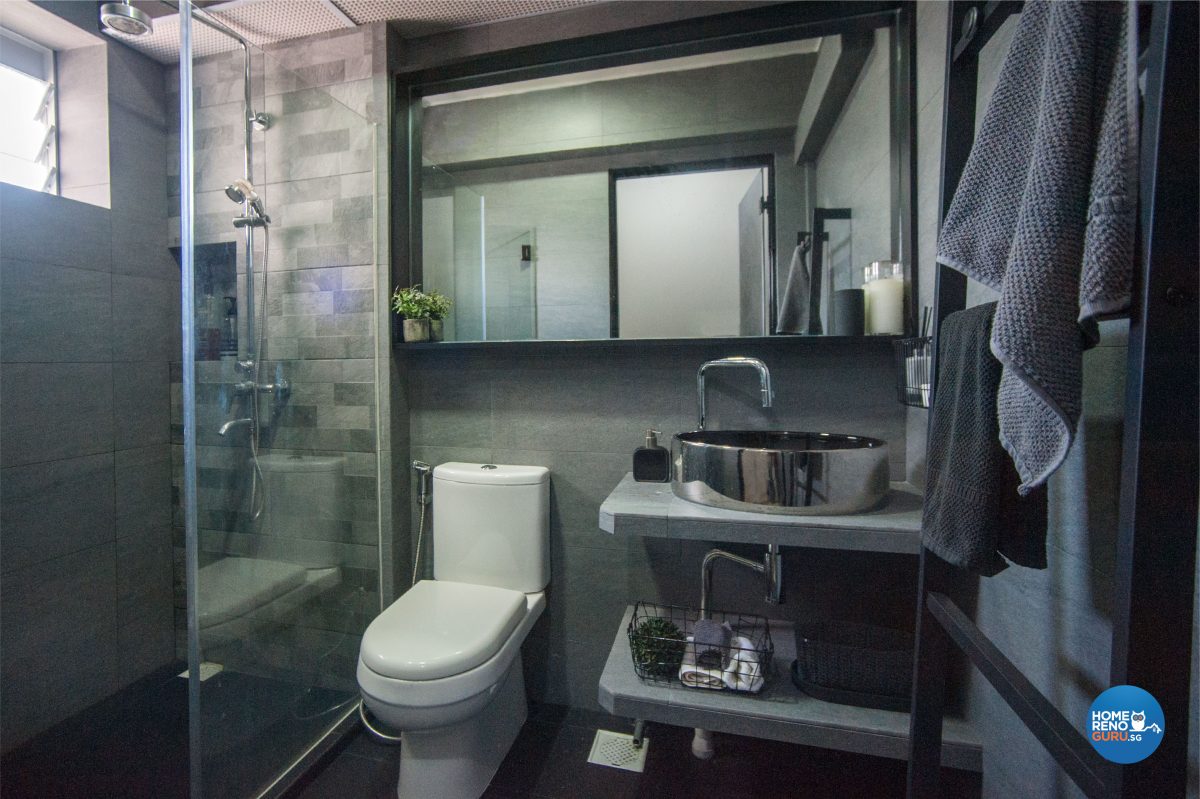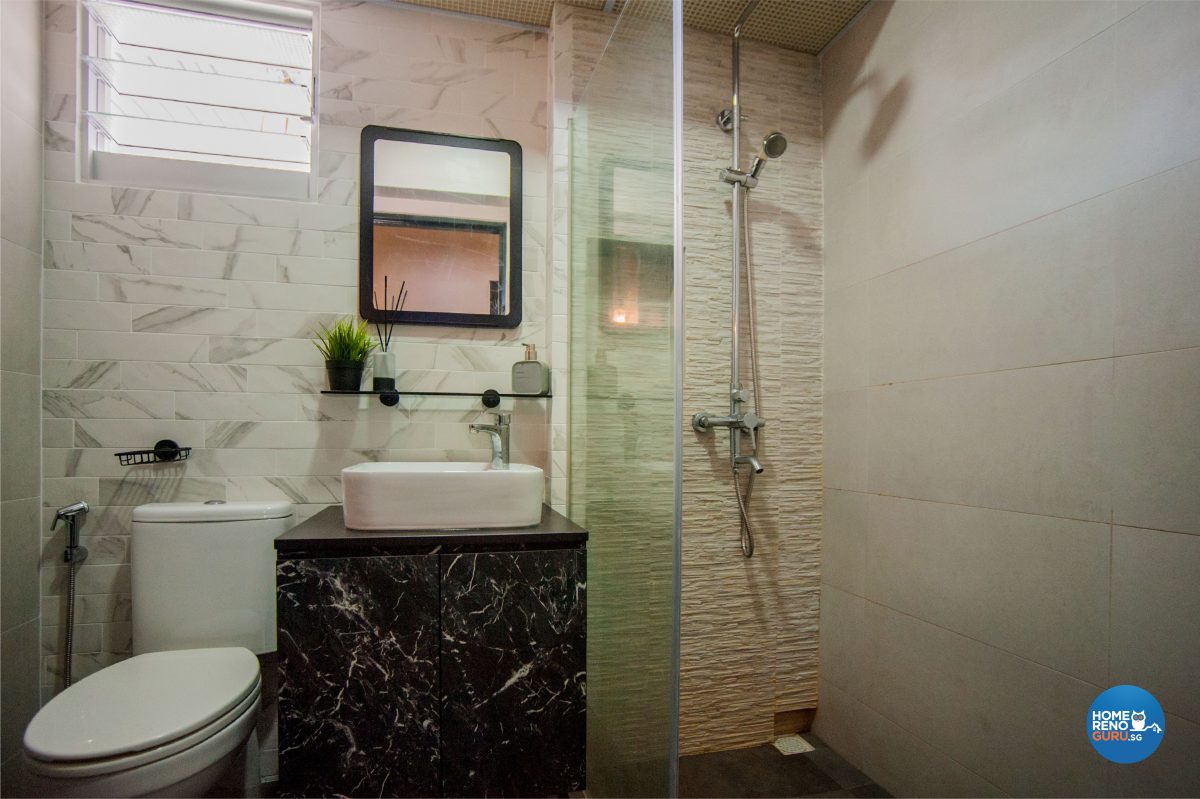 Both the master and common bathroom sport a hotel-like feel
Fauzie:
For the common and master bathroom, me and my ID, we both went down to Hafary to choose the tiles because we had this idea to incorporate this hotel look. So, after the selection, we decided that we wanted a light greyish tone for the common. bathroom. And as for the master bathroom, we chose a darker grey tone.
For the flooring of the whole house, we opted for vinyl flooring from Modern Wood, because of the easy maintenance.
HomeRenoGuru:
Do you have any advice that you would like to share with other homeowners?
Fauzie:
If there's one advice that we can give to new homeowners is firstly, know your budget. If you have a fixed budget, then you have to be realistic about what can be done and what cannot be done within the budget. And also, once you have certain ideas, don't be indecisive. You have to know exactly what you want in your dream home, and make sure that you communicate it well to your interior designer.
HomeRenoGuru:
Would you recommend Icon Interior Design to your family and friends?
Nurul:
We would definitely recommend Icon Interior Design to our friends and families.
Fauzie:
Yes, because I think their designs are very up-to-date, very current, and I think that if you enter their showroom, you would clearly see that that's their major strength actually – design. Yes, we would definitely recommend Icon Interior Design. You should try them.
Nurul:
We would like to thank Icon Interior Design for making our dream house into reality.
Fauzie:
I hope you got inspired by our house tour. If you want to copy, go ahead. Feel free to do it – but don't copy everything. Bye!