Dream Home: Modern Indochine
Angie's renovation came with two major challenges – the interior designer had to conceptualise a theme around Angie's existing furniture in Tokyo, sight unseen, and the homeowners would not be physically present during the renovation. However, May of Meter Square worked around these factors without a hitch. Angie and her foodie husband are delighted with their 'Modern Indochine' home in Singapore.
Project Snapshot
Name(s) of Homeowner(s):
Angie and Peter
House Type:
3-bedroom Resale Condominium
Size of Home:
1,765 sq ft
Cost of Renovation:
$100,000
Duration of Renovation:
2.5 months
Interior Design Firm:
Meter Square Pte Ltd
Name of Designer(s):
May Chang & Michelle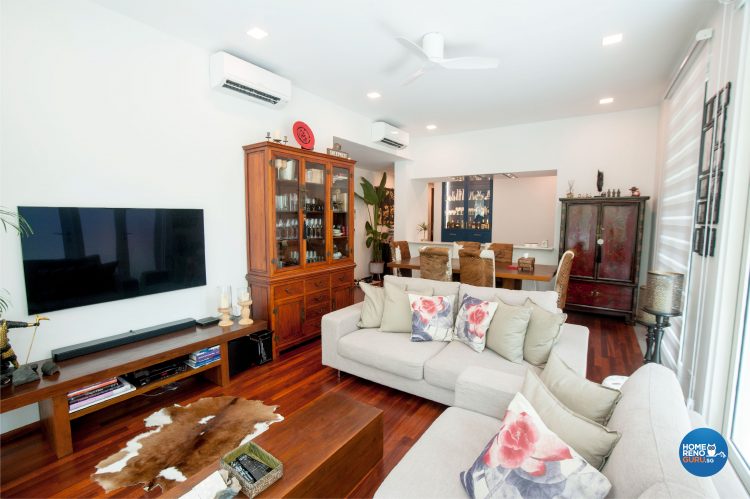 The open concept living area flows into the dining area and kitchen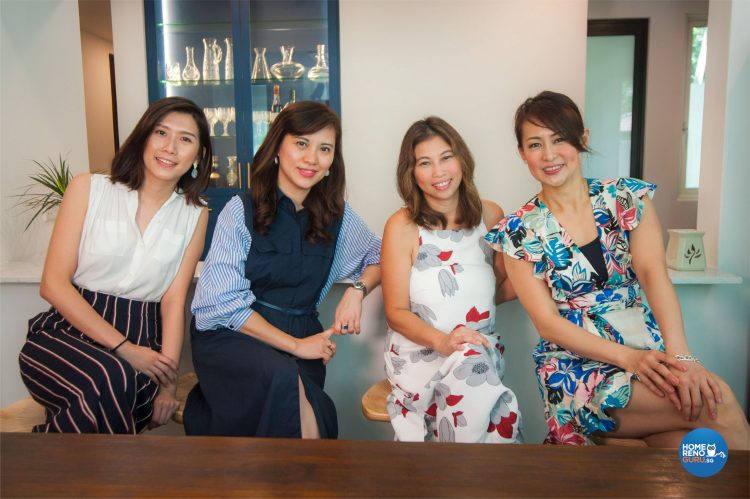 L to R: Michelle and May of Meter Square, homeowner Angie and special guest Shannon
HomeRenoGuru:
How did you come to engage Meter Square to renovate your home?
Angie:
We chose Meter Square because they were highly recommended by friends of ours who had used their services before. Of course we did some groundwork and checked around a couple more portals but finally we came back to Meter Square. And I am so glad that we did.
HomeRenoGuru:
What was your brief to Meter Square?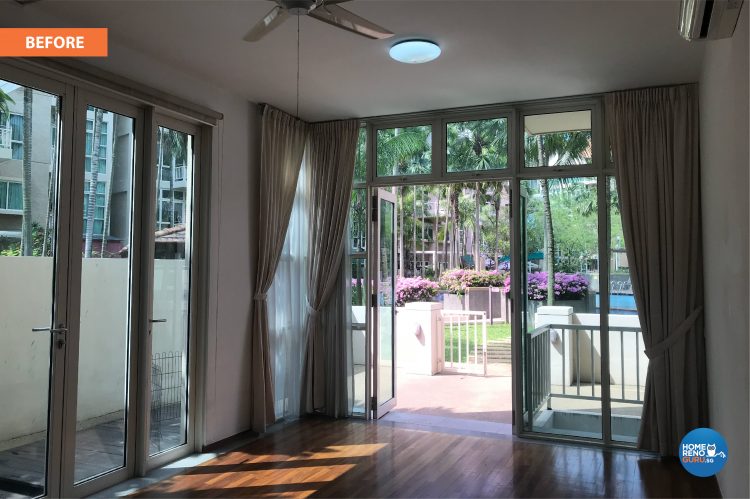 The living area prior to renovation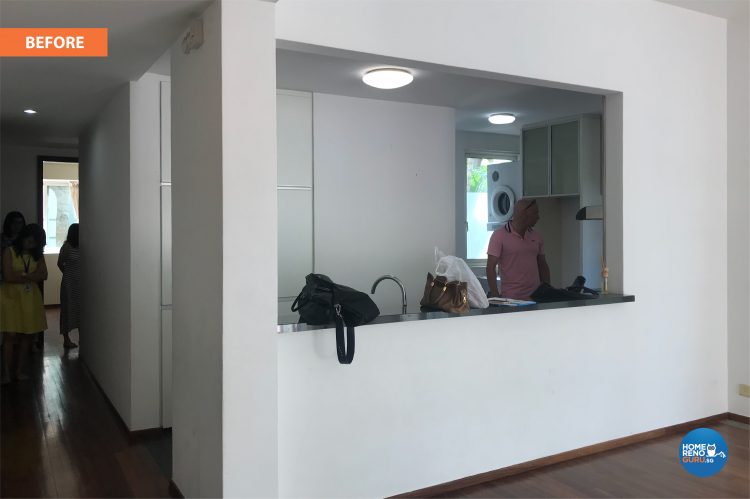 The kitchen counter prior to renovation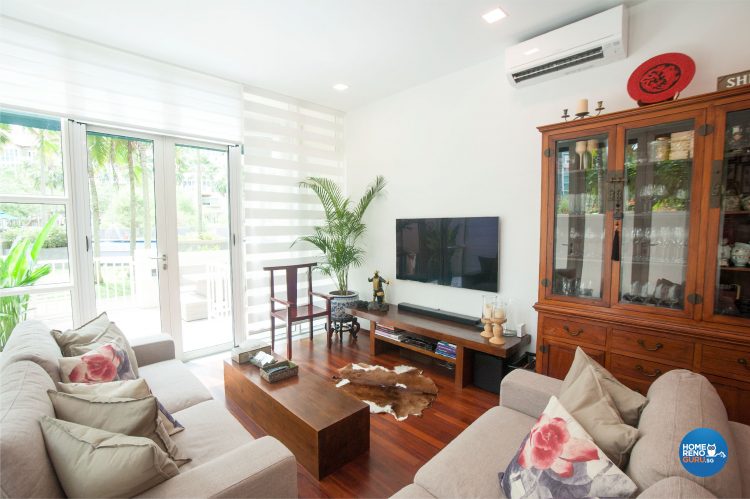 The entrance after renovation
The kitchen after renovation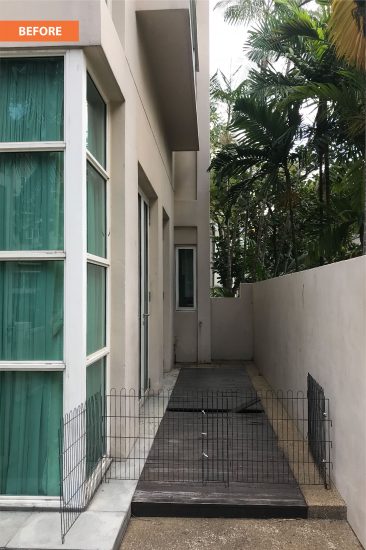 The under-utilised side of the house prior to renovation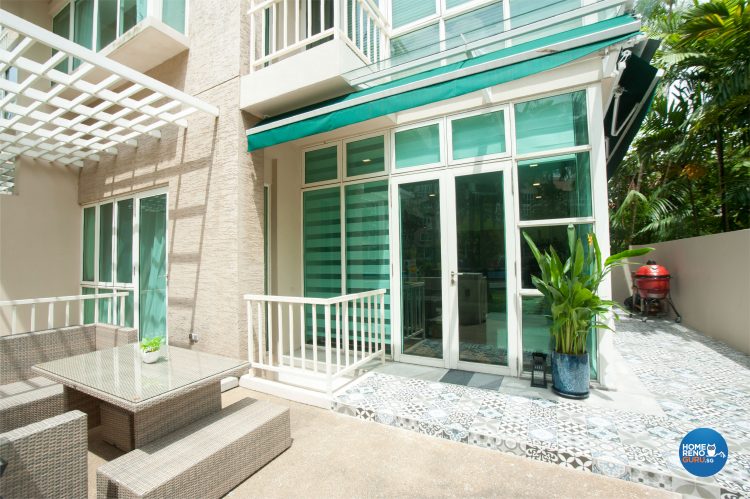 The al fresco area features eye-catching Peranakan-inspired tiles
Angie:
Our brief to Meter Square came with two major challenges. One was the fact that we had existing furniture that we wanted to ship from Tokyo, which May our chief designer had to incorporate into the renovation. The other was that we were not going to be physically here in Singapore to supervise the renovation progress.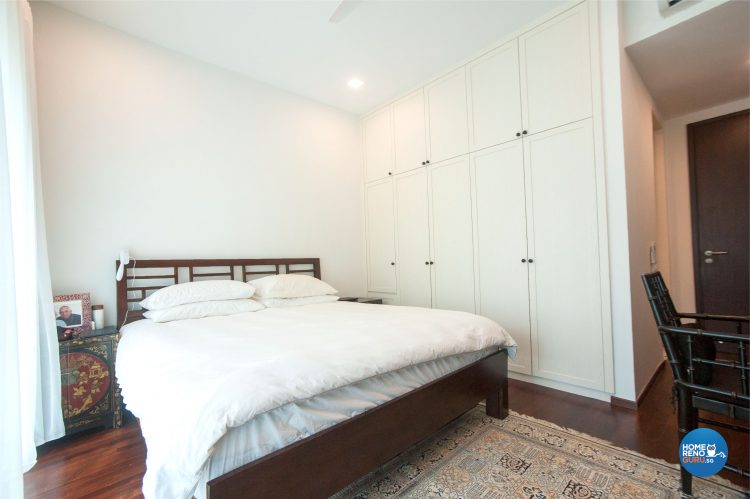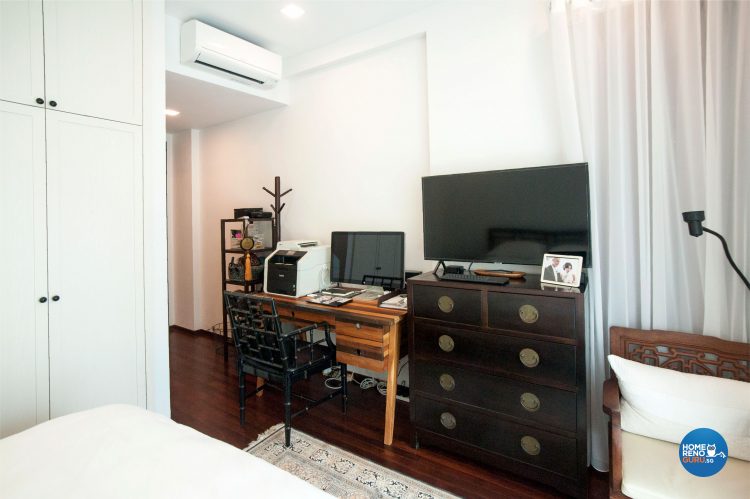 The simple, elegant master bedroom features floor-to-ceiling built-in wardrobes that complement the owners' vintage Oriental pieces
HomeRenoGuru:
How did your interior designer respond to those challenges?
Angie:
Our designer May Chang set up a group chat to enable us to communicate with each other. When it came to details like choosing tiles, May set up a video call, which was the next best thing to being there. Somehow it all worked out very well.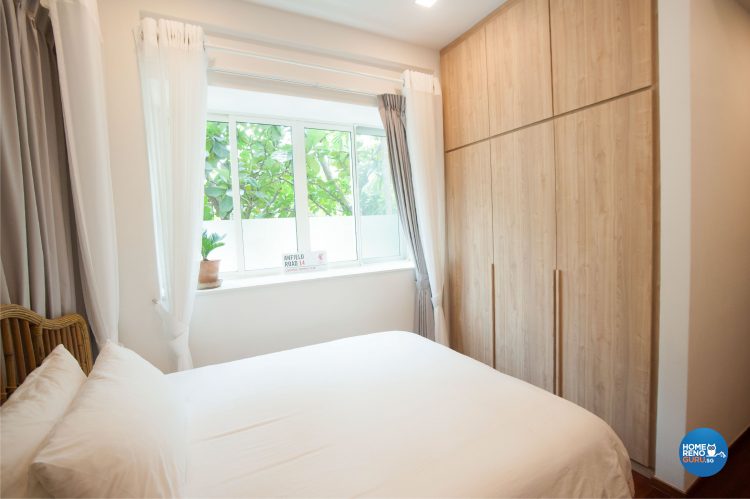 The second and third bedrooms share neutral colour schemes with splashes of colour from statement art and a lovely garden view respectively
HomeRenoGuru:
Did you have a fixed theme in mind?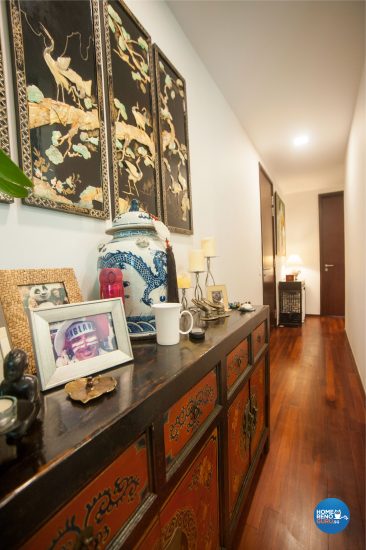 An antique sideboard accommodates the owners' sentimental collection of photographs and memories
Angie:
Not really. We had a lot of Oriental vintage pieces and small décor items that we'd picked up on our travels. May threaded it all together and came up with a theme she calls 'Modern Indochine'. We love it!
HomeRenoGuru:
What do you love most about your renovated home?
Angie:
Actually, everything! But in particular, I love the bathrooms. Our master bathroom has classic black and white floor tiles, marble lookalike wall tiles and gold accessories. It feels very luxurious. Having lived in Japan, where bathing is such an important part of the culture, the bathtub is very much appreciated, too!
The unrenovated master bathroom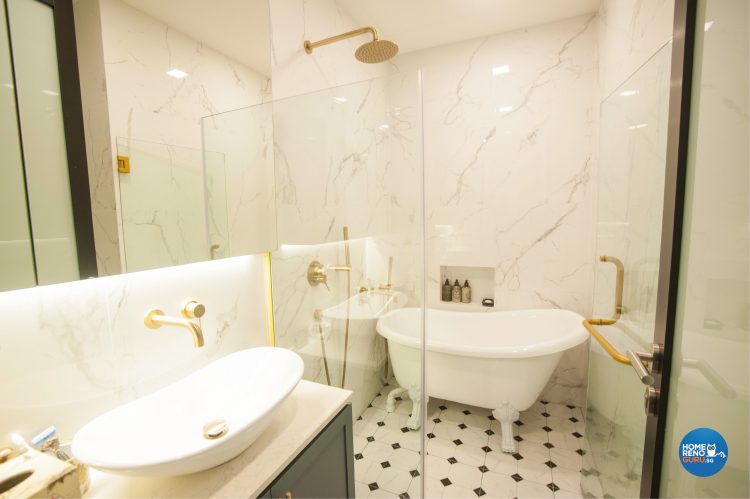 Post-renovation, the master bathroom emanates a luxe hotel vibe with black and white ceramic tiles and a claw-footed bathtub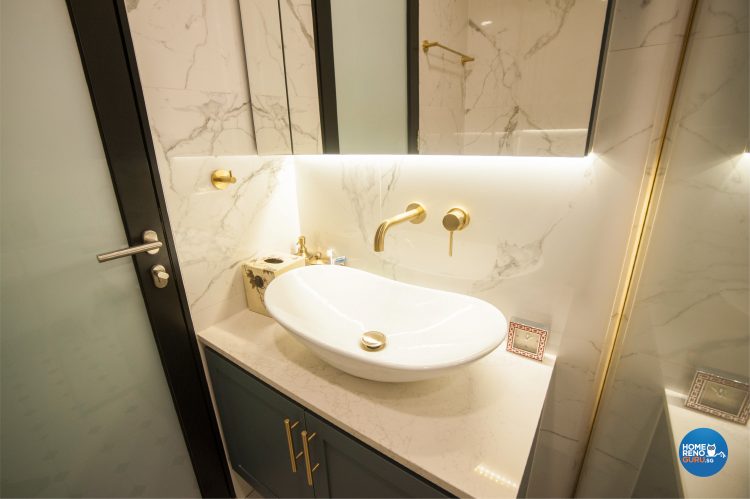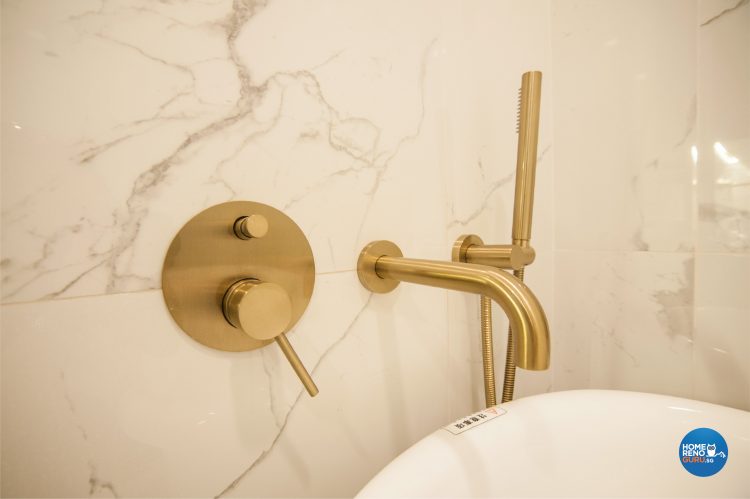 Marble-like wall tiles and gold tapware enhance the understated grandeur of the master bathroom
The common bathroom attracts a lot of comments. People love the honeycomb pattern that you can see on the floor tiles and echoed in the wall tiles.
The unrenovated common bathroom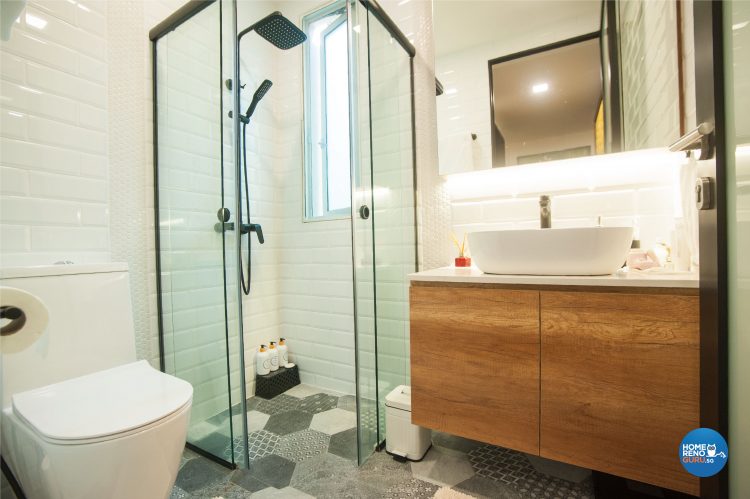 Post-renovation, the bathroom is distinguished by unique multi-patterned floor tiles in shades of grey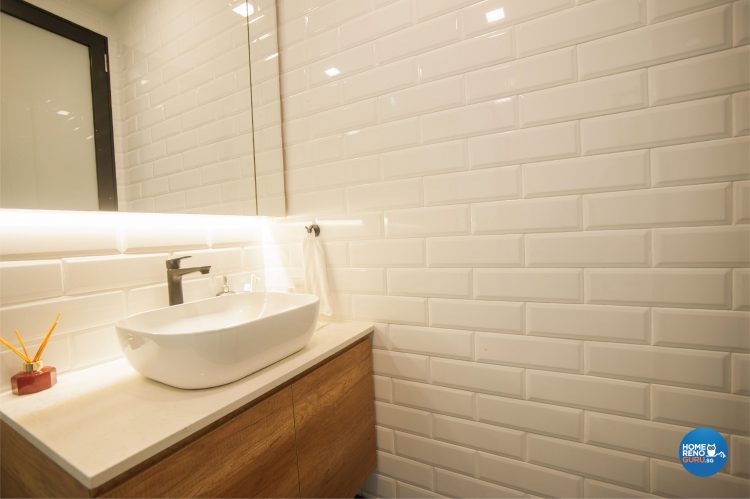 Ever-trending subway-style white wall tiles clad the walls of the common bathroom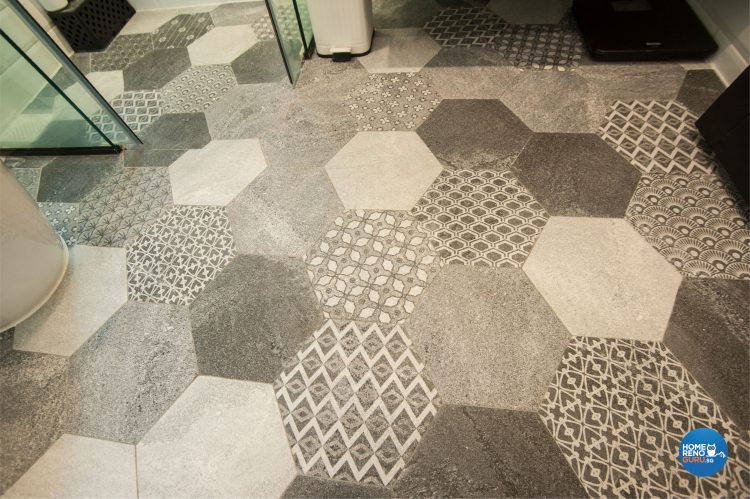 The floor tiles are a much-remarked upon standout feature
My husband loves the kitchen. As a keen cook, he spends a lot of time there. He really put the pressure on May – he told her the kitchen had to be 'amazing'. And it is. The cabinets are beautiful with their distinctive colour and gold handles. The open concept is great for entertaining, and the built-in teppanyaki pan is fantastic.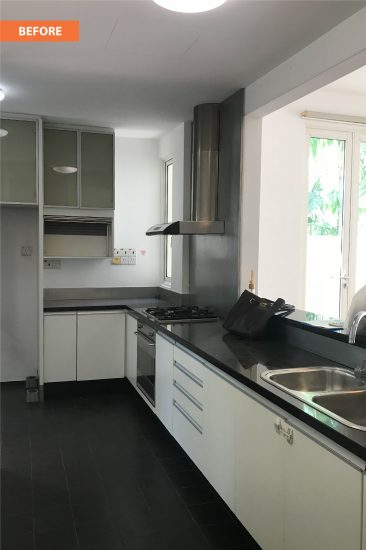 The once-drab kitchen prior to renovation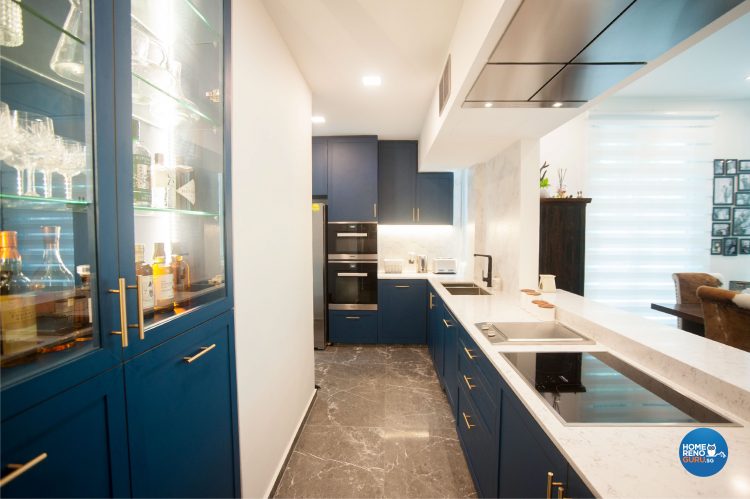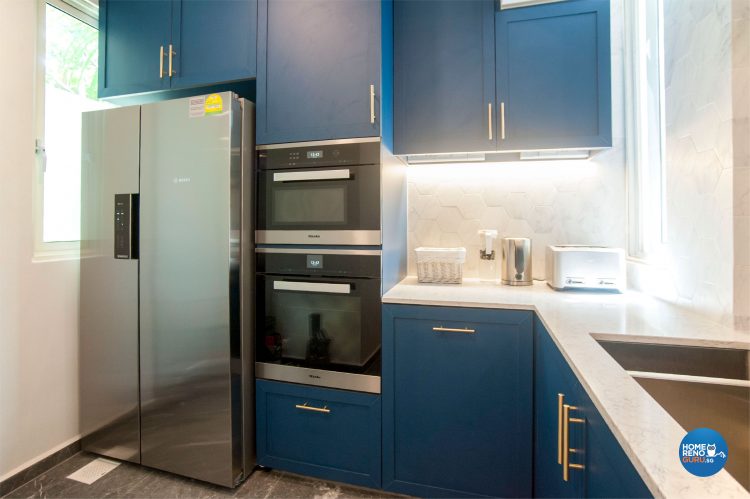 Mission accomplished – an amazing kitchen was part of the homeowner's brief!
HomeRenoGuru:
Would you recommend Meter Square to other homeowners?
Angie:
Definitely, I would recommend Meter Square to other homeowners. The design was fantastic, the project management was awesome and they were very timely. So thank you very much, May – and also your teammate Michelle. You were a pleasure to work with.