Dream Home: Love the Feeling of Coming Home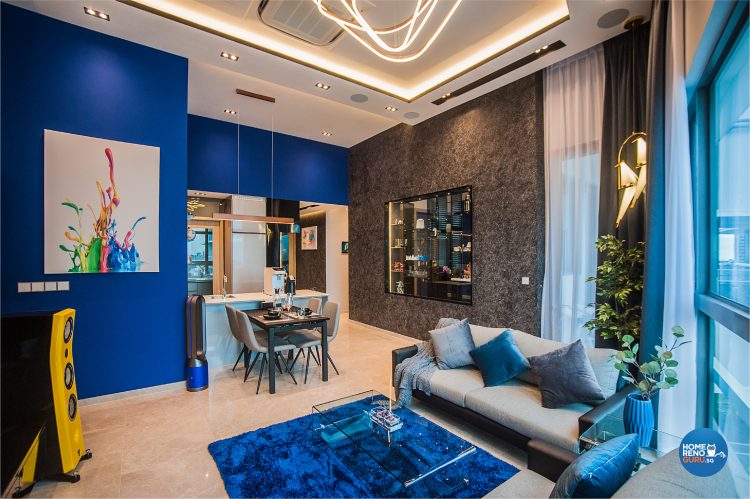 The living area of Nick's urban pad, complete with massive TV and high-end speakers
Project Snapshot
Name(s) of Homeowner(s):
Nick
House Type:
3-bedroom Condominium
Size of Home:
1,200 sq ft
Cost of Renovation:
$80,000
Duration of Renovation:
6 weeks
Interior Design Firm:
Name of Designer(s):
Clarice Chea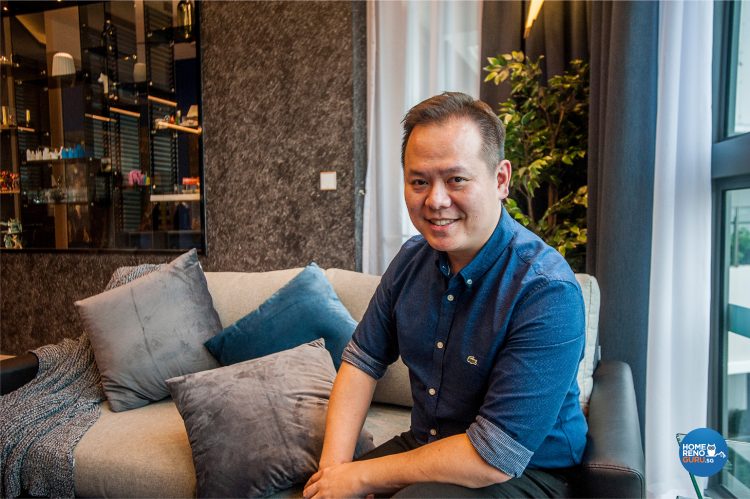 The home-loving and house-proud homeowner
Nick did his homework and met up with a few interior designers that he'd sourced from HomeRenoGuru before clicking with Clarice from The Two Big Guys. The stunning results of their co-creation speak for themselves.
Every window offers stunning views of Singapore
HomeRenoGuru:
How did you come to engage The Two Big Guys to renovate your home?
Nick:
After I bought this apartment, I started looking online for a suitable interior designer and, through the HomeRenoGuru portal, I found Clarice from The Two Big Guys. After meeting several designers I decided to go ahead with Clarice, because I felt that she understood what I needed, was able to offer very good ideas, was very responsive to all my queries and provided very reasonable quotations.
HomeRenoGuru:
What was your brief to Clarice?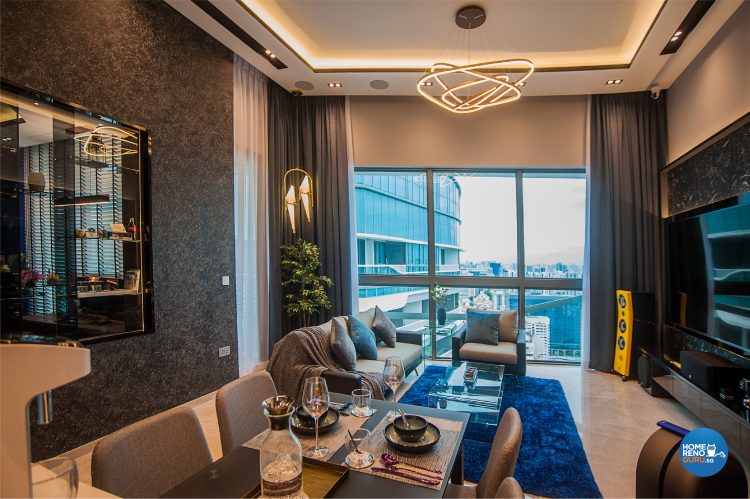 The transparent display cabinet that divides the study and living area accommodates Nick's impressive collection of 'big boy's toys'
Nick:
My brief to Clarice on the design was for something modern, contemporary, with clean lines and a darker colour palette. After several discussions with Clarice, we also decided to add some splashes of colour such as blue, yellow and some brown as well. Clarice actually proposed the whole home styling, including soft furnishings, lighting and other decorative elements.
HomeRenoGuru:
How was the actual renovation process?
Nick:
The renovation process was pretty smooth sailing as Clarice was very on the ball and on site very often. As for a few little issues that I raised, she managed to resolve them very promptly and despite little hiccups here and there she was able to finish the project within schedule.
HomeRenoGuru:
What do you love most about your renovated home?
The transparent display cabinet – view from the living area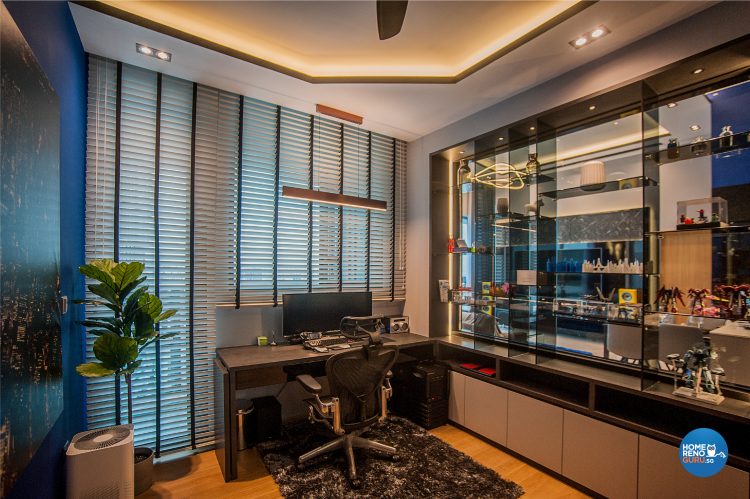 The transparent display cabinet – view from the study room
Nick:
In general, I love the whole house but if I had to pick a favourite part it would probably be the transparent display cabinet because I feel that it visually opens up the whole area and it allows me to display my toy collection and travel memorabilia. It's often the topic of discussion when I have friends and family over.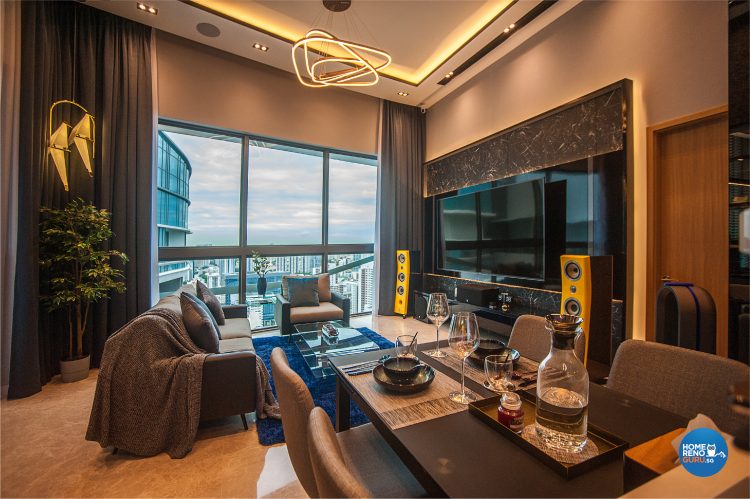 Lights, aircon and appliances can all be remotely controlled in this 'smart home'
Nick uses one universal remote to control all his interconnected devices
Another favourite part of the house is the smart home integration, where I'm able to control the lights and my appliances through the app and even through Google Home.
Splashes of blue and pops of yellow brighten up the dark colour palette
I also love the colours in the house, especially the contrast between the blue and the feature wall.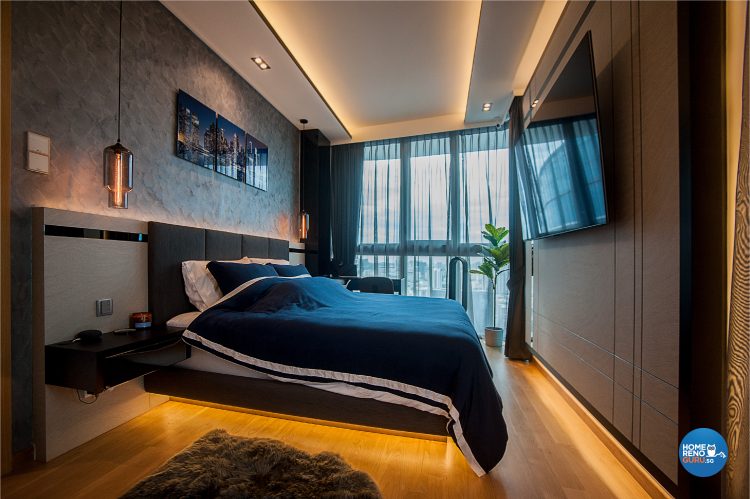 The modern yet cosy master bedroom
The master bedroom is very cosy, and Clarice was able to incorporate a lot of hidden storage as well. For example, there is a hidden accessories cabinet in the study desk.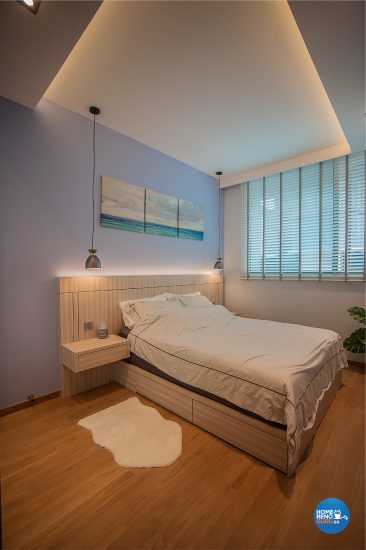 The light, bright common bedroom
The common bedroom has a completely different feel compared to the rest of the house. The colours are very bright, light and soothing.
The sleek, hotel-like master bathroom
HomeRenoGuru:
Do you have any advice that you would like to share with homeowners who are contemplating a renovation?
Nick:
My advice to homeowners is to plan early and to meet up with several interior designers as this will allow you to be able to compare quotations and to find the designer that you're comfortable with.
HomeRenoGuru:
Finally, would you recommend Clarice and The Two Big Guys to other homeowners in Singapore?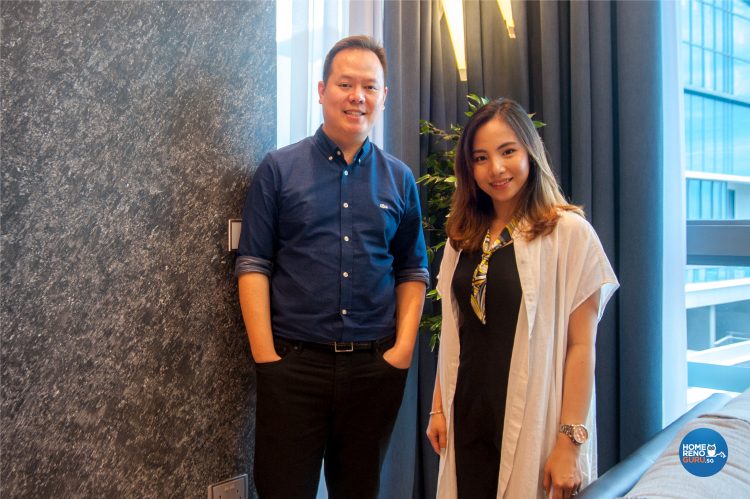 A great team: Nick and his interior designer Clarice from The Two Big Guys
Nick:
I think Clarice did a fantastic job and I would definitely recommend her and The Two Big Guys… At the end of the day, I love the feeling of coming home.