Excellent Choices, Happy Homeowners
Walls were demolished to open up the space in this warm and welcoming home
Name(s) of Homeowner(s):
Clement Chia and Emily Chua
House Type:
4-room HDB Flat
Size of Home:
90 sq m
Cost of Renovation:
$50,000
Duration of Renovation:
6 weeks
Interior Design Firm:
Love Home
Name of Designer(s):
Louis Loo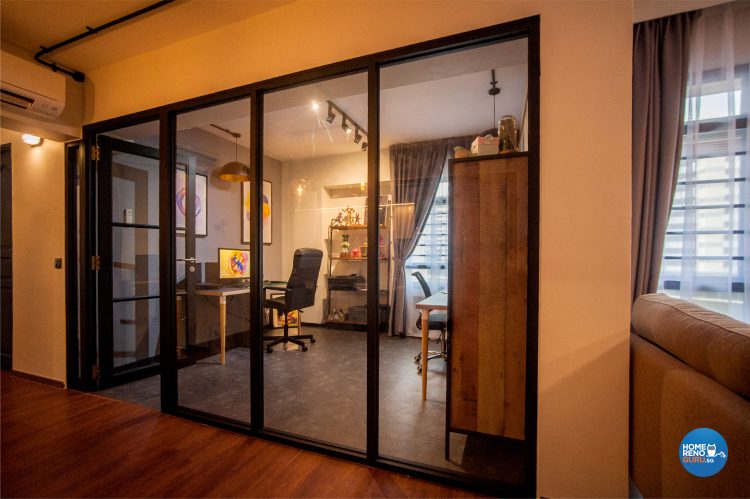 The extensive use of glass and mirrored surfaces enhances the feeling of spaciousness
Clement and Emily love their home – renovated, appropriately, by Love Home. Their home is not only beautiful and comfortable but also functional. This is largely due to the premium quality Excel hardware used throughout the carpentry in their home. It was just one of a series of excellent choices they made together with their interior designer, Louis Loo, that led to the happiest of outcomes.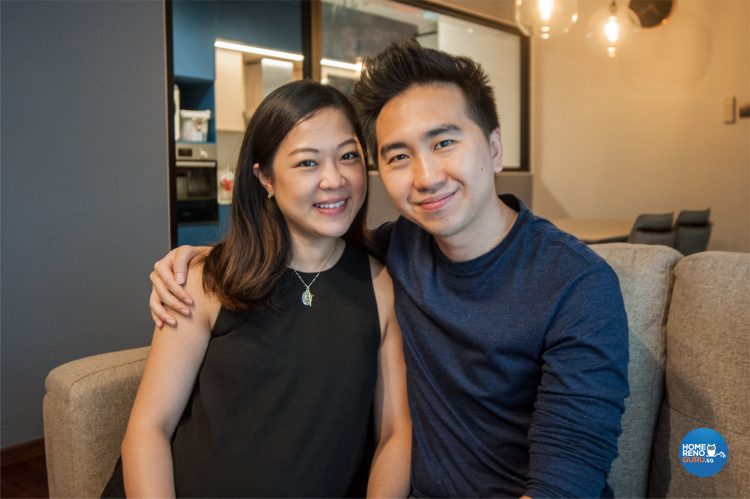 Happy homeowners Emily and Clement
HomeRenoGuru:
How did you come to engage Love Home for your renovation?
Emily:
We got to know of Louis from Love Home through my sister – he is a longtime friend of hers. After meeting up, we found that we felt very comfortable with him.
Clement:
We contacted a few other IDs and contractors, but they were not very responsive. Louis from Love Home was the most responsive one of all and that was the deciding factor.
HomeRenoGuru:
What was your brief to Louis?
Emily:
Before we actually contacted Louis, we found some references based on the theme that we liked, which was more towards the café style. We shared these with him when we met up.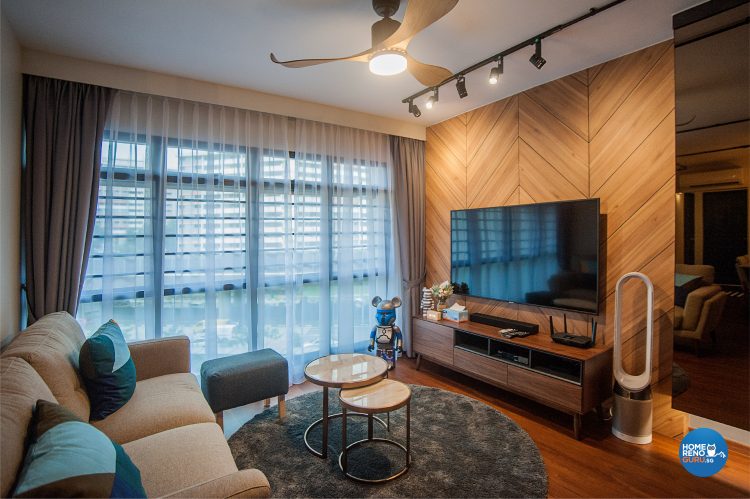 Black track lighting and conduit piping lend the interior a café-style vibe
Clement:
Our initial colour scheme was grey, brown and white. However, we went to the showroom and saw this unique blue. It struck us as something very very special, so we went ahead with it.
Emily:
It was a happy coincidence because blue was our favourite colour!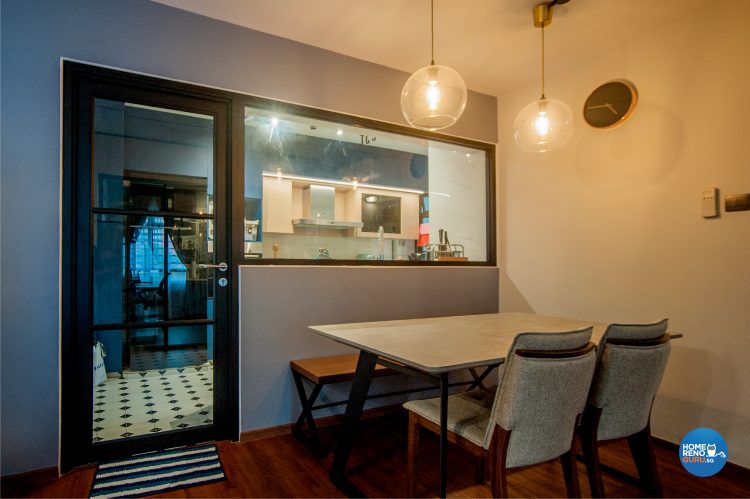 The colour scheme of green, brown and white is distinguished by the addition of a deep, muted blue
Clement:
When we showed Louis our floor plan, he pointed out that it was actually quite small and suggested demolishing both the bedroom walls and the kitchen walls to open up the space. He also recommended incorporating mirrors and glass, and black conduit piping on the ceiling to add a touch of the industrial feel.
HomeRenoGuru:
What do you love most about your renovated home?
Emily:
My favourite part of the house is the kitchen, where I do quite a bit of cooking and baking. I also love the theme of the décor. One of the things that I'd requested was soft-closing hinges and runners.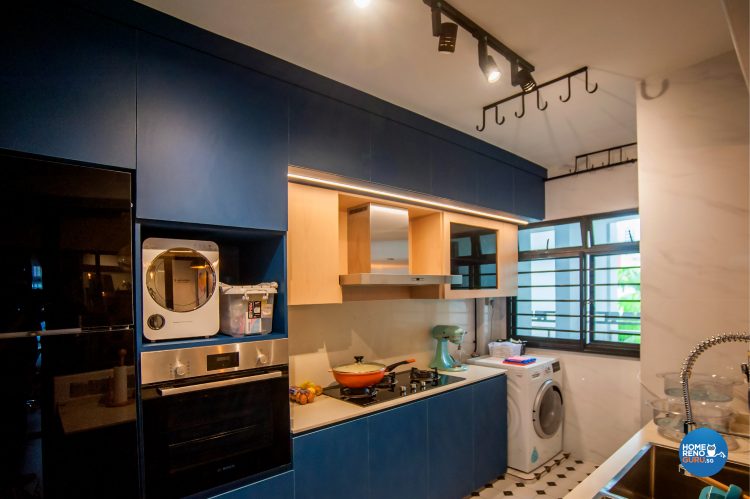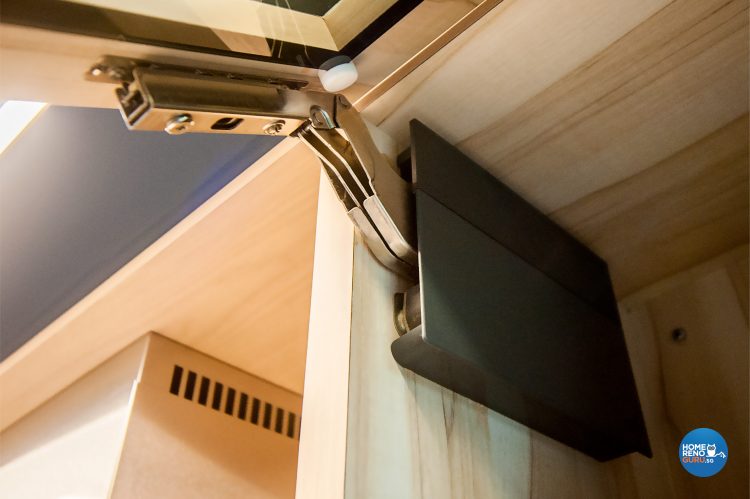 Excel hardware was used extensively in the kitchen – including Excel's Italian Series Stainless Steel SUS304 soft-closing hinges for the cabinet doors; Exce's Costanzo Top Stay Lift Up System and SUS304 Built in Dish Tray; and Excel-DTC Soft-Closing Undermount Drawer Tracks
Louis:
I recommended Excel hardware
https://excelhw.com.sg/
 as they have a very wide range of products.
For the dish drainer, I recommended Excel Costanzo Top Stay Lift Up System, as they have soft-closing features that allow you to lift up the door panel to any position you want. In addition, I installed soft-closing hinges for all the door panels in the kitchen and soft-closing runners for all the drawers. As there's a lot of washing being done at the sink area, I recommended Excel SUS304 Stainless Steel Soft Closing Hinges to prevent rusting.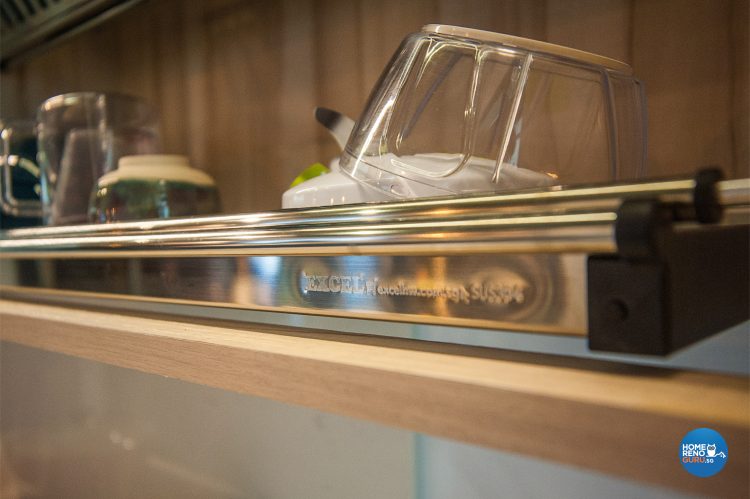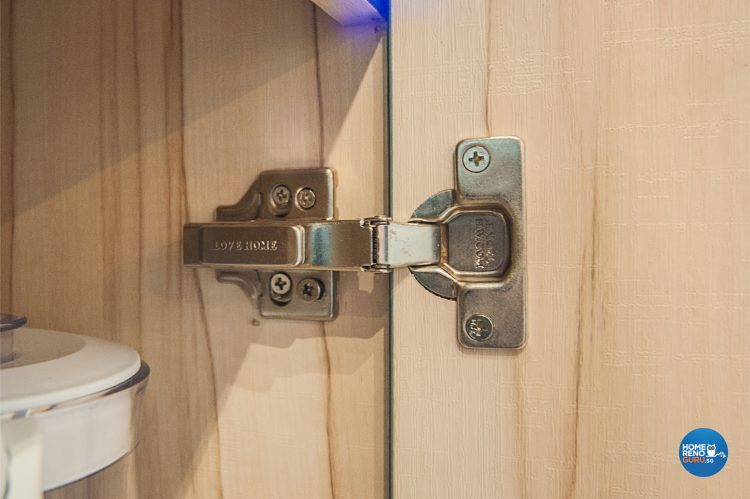 Excel's Italian Series Stainless Steel SUS304 hinges are rust-resistant and ideal for cupboards under the sink
HomeRenoGuru:
Did you use Excel products anywhere else in the house?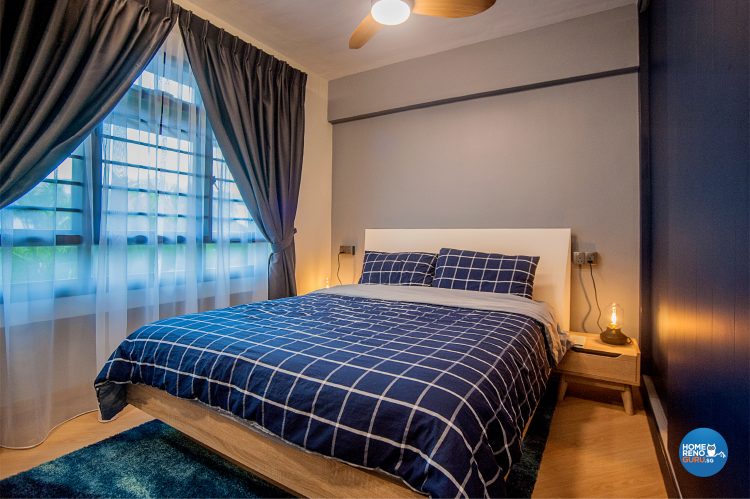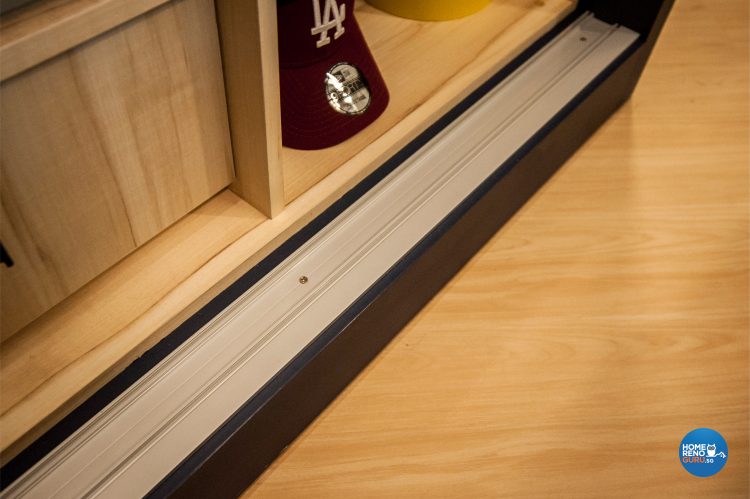 In the master bedroom, Excel's durable T206S Soft Closing Top Hung Wardrobe Sliding Door Tracks ensure smooth opening and closing
Louis:
For the master bedroom, I installed the Excel Soft Closing Runners for their sliding wardrobe panels. What is good about these runners is that they ensure the door panels don't run off the tracks easily. It means they slide more smoothly and are more durable. Anyway, you don't have to worry, because you enjoy a Life-time Warranty on Excel mechanisms when you install them with Love Home.
Clement:
I really like the feature wall in the living room because it conceals all the wires very well.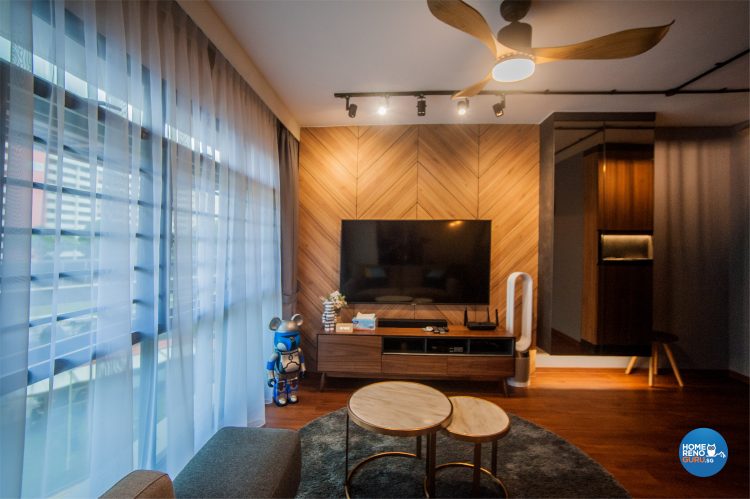 A feature wall in the living room neatly conceals the wiring
Clement:
And as for the study room, I really like the use of glass and how it creates an illusion of more space throughout the entire house.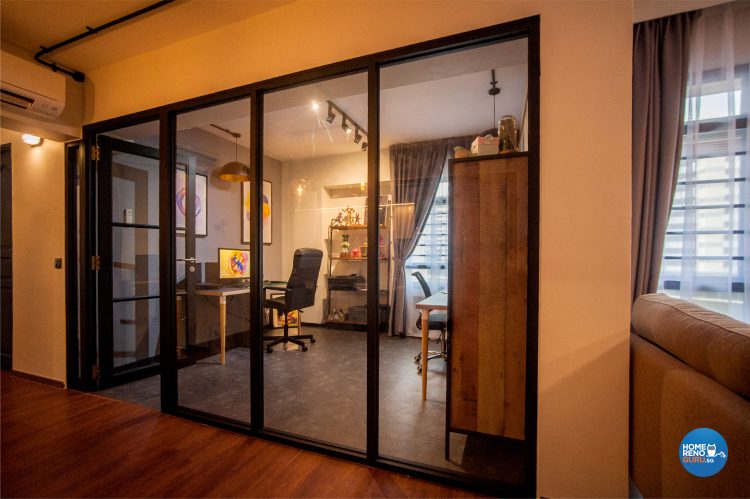 The study room is separate yet integrated with the living area, thanks to a glass panelled wall
Emily:
As for the bathrooms, as you can see that each has a different concept. One is more industrial style and the other is more modern. I really like the undermount cabinet lighting as well as the tiles that Louis proposed for us.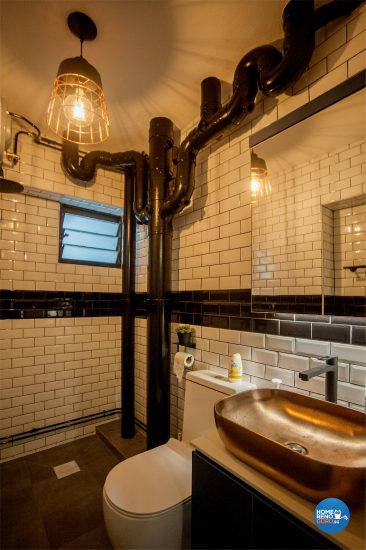 The bathrooms are distinctly different from each other – one has an industrial vibe while the other is sleek and modern
HomeRenoGuru:
Do you have any general advice that you would like to share with other homeowners?
Emily:
Our advice to new homeowners would be to find a prompt ID who responds to your texts and calls!
HomeRenoGuru:
Would you recommend Love Home to other homeowners who are contemplating a home renovation?
Clement:
Yes, we would definitely recommend Louis from Love Home to our friends and family. We are very impressed with all the workmanship and services provided.
Emily:
In fact, we have already done so!
Clement:
I'd like to say thank you to Louis for making the entire renovation journey smooth for us.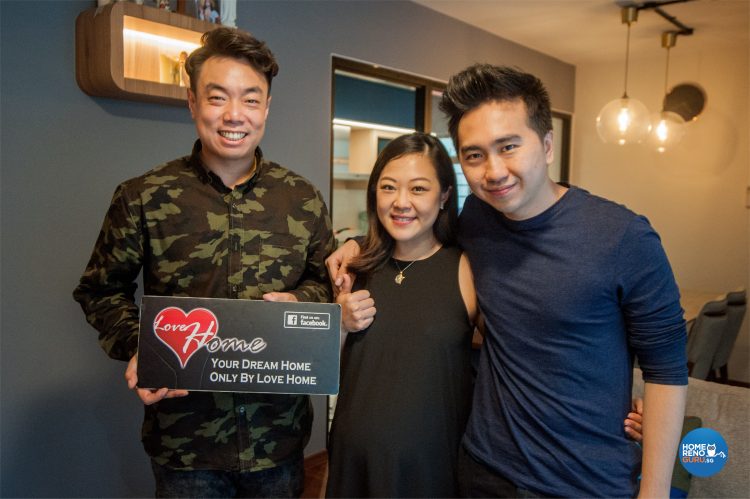 Their smiles say it all – Love Home's Louis Loo with satisfied customers Emily and Clement