The Perfect Jigsaw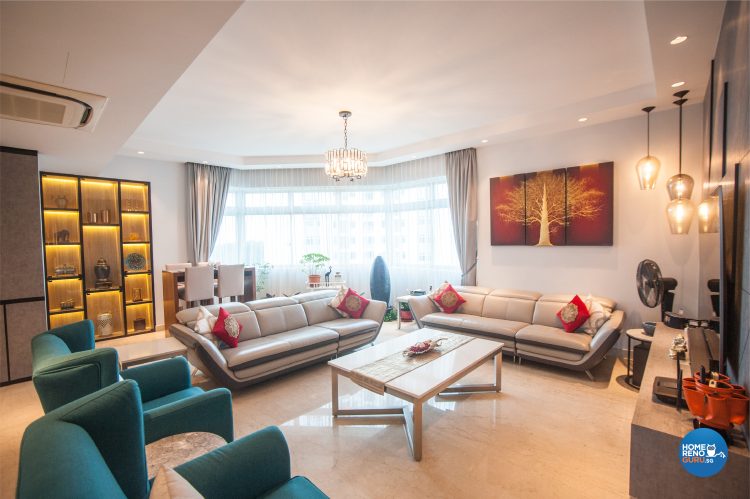 Vivek and Namrata's spacious and elegant home
Name(s) of Homeowner(s):
Vivek and Namrata Kumra
House Type:
4-bedroom Condominium
Size of Home:
2,400 sq ft
Cost of Renovation:
$350,000
Duration of Renovation:
4 months
Interior Design Firm:
Y-Axis ID Pte Ltd
Name of Designer(s):
Cadra Ong Peiyin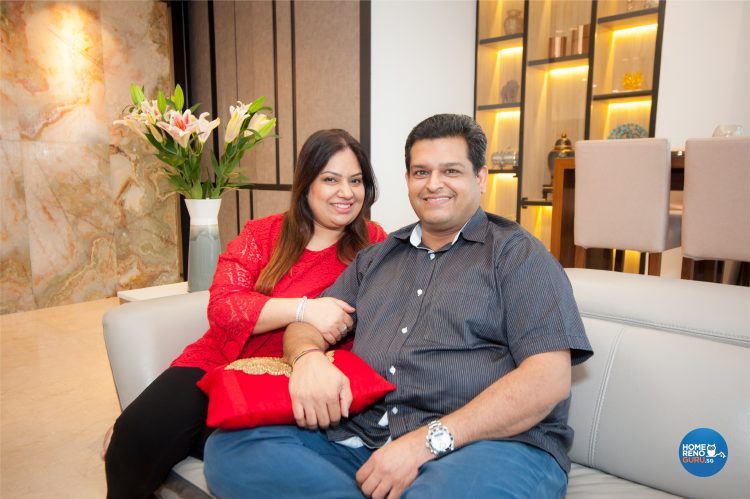 Happy homeowners Namrata and Vivek
Houseproud and home-loving, Vivek and Namrata have a truly stunning home that exudes an air of relaxed sophistication. They worked closely with their interior designer, Cadra from Y-Axis ID, to conceptualise each room with the whole in mind. Everything came together beautifully, like the pieces of a perfect jigsaw. Hear their story.
HomeRenoGuru:
How did you come to engage
Y-Axis ID
to renovate your home?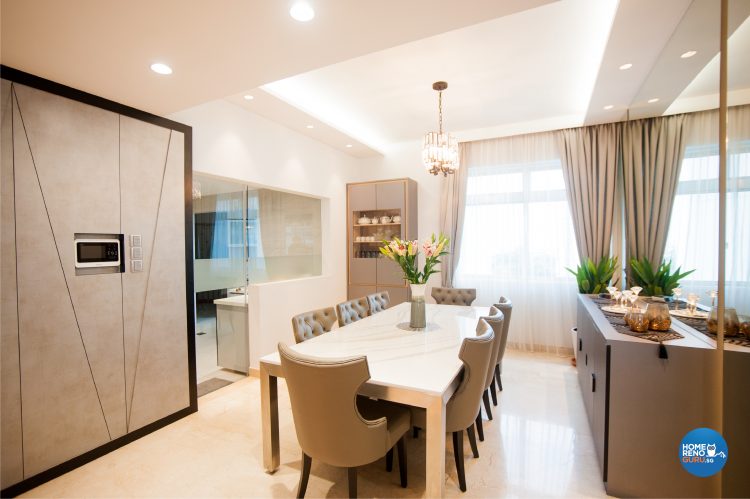 The dining area is strategically located alongside the open concept kitchen
Namrata:
When we decided to renovate this apartment, we contacted a few ID companies, met a few IDs, discussed our plans and ideas with them. But we were very confused and nothing was working out. I felt that the chemistry was missing.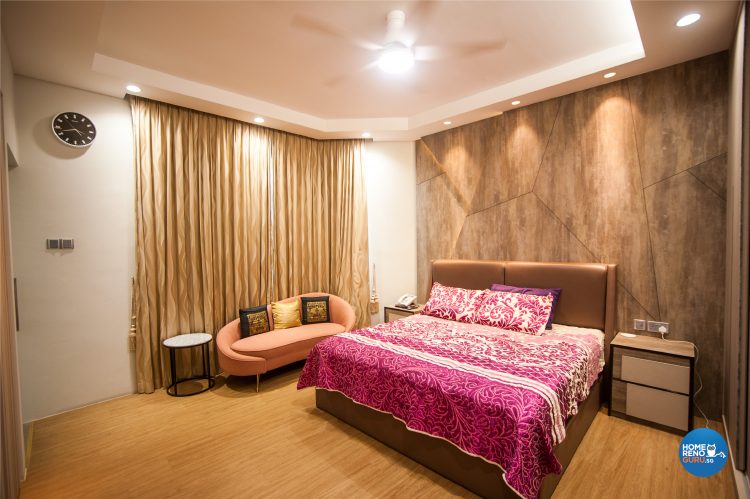 Layered lighting and a chaise evoke a luxury hotel ambience in the master bedroom
Vivek:
And it so happened at that time there was a renovation going on a few floors down below. And that's when we walked into the house and we liked what we saw. The workmanship was great. Around that point in time we also received a letter from the ID company and it had Cadra's name on it along with her number so we decided to call her, and we're very happy that we did.
HomeRenoGuru:
What was your brief to your interior designer, Cadra?
Namrata:
When it came to briefing Cadra, we had many ideas in our mind but it was very confusing for us. The ideas were all raw and scattered. We didn't know what to choose, what to do.
Vivek:
And on top of that, we had effectively moved from block to block within the same condominium and the layout was exactly the same as well. So it was very difficult conceptually to come up with something completely different. That was the challenge.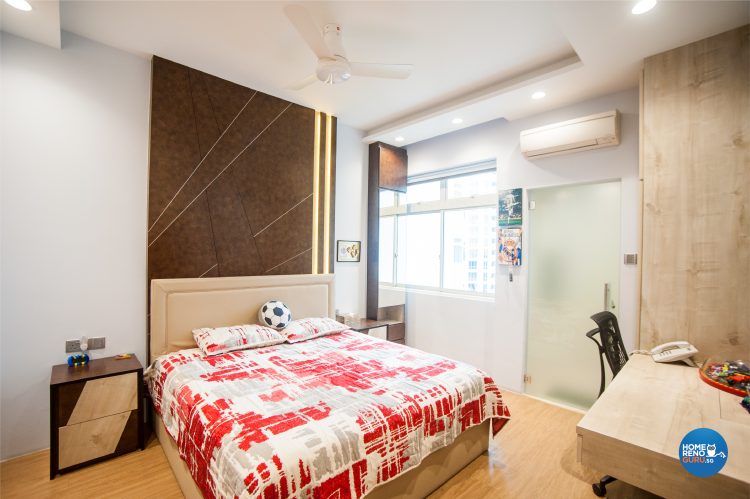 The son's generously-proportioned bedroom has a textured feature wall behind the bedhead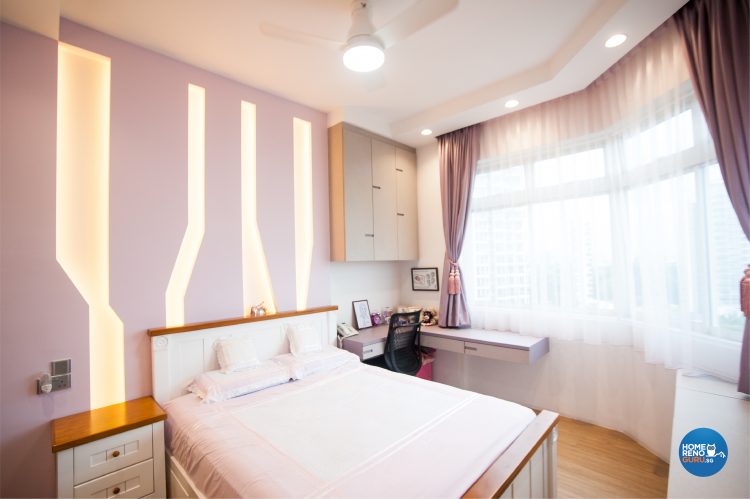 The daughter's spacious bedroom has a striking illuminated feature wall
However, after a lot of discussions and brainstorming sessions with Cadra, we decided to go along with the theme of a modern concept for the house which had muted colours so that it would be evergreen…
Namrata:
And then we could accessorise it with a splash of colours, which we can change from time to time if we're bored.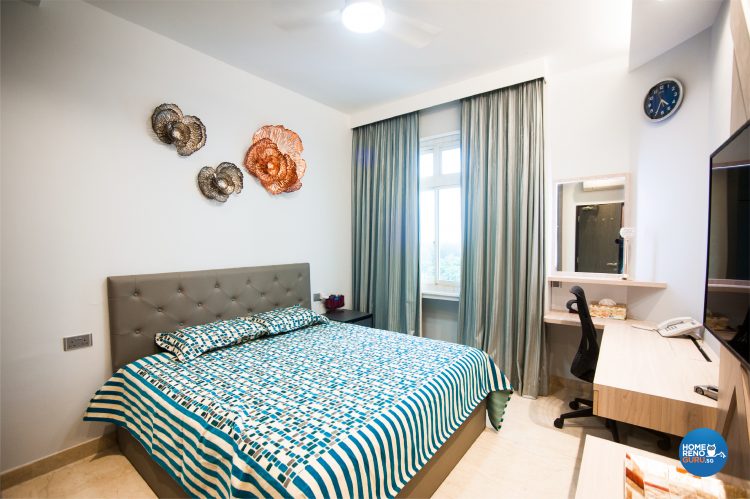 Visitors feel perfectly at home in this guest bedroom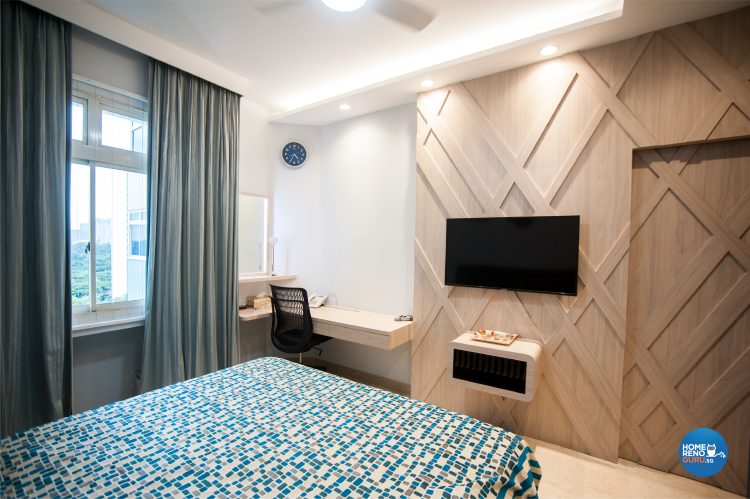 A wall-mounted television and built-in desk take their cues from a luxury hotel room
HomeRenoGuru:
After the planning, how was the renovation process?
Vivek:
When we took over the apartment from the previous owner, most of the original fixtures were still intact. It was a major undertaking to clear all of them and create this empty shell from which we could then commence our renovation works.
Namrata:
But when the actual renovation started, everything went really smooth.
HomeRenoGuru:
Were you satisfied with the results?
Vivek:
Each part of the house had been compartmentalised and conceptualised. But when the pieces of the jigsaw were put together and we saw how the house turned out, we were just amazed by the results.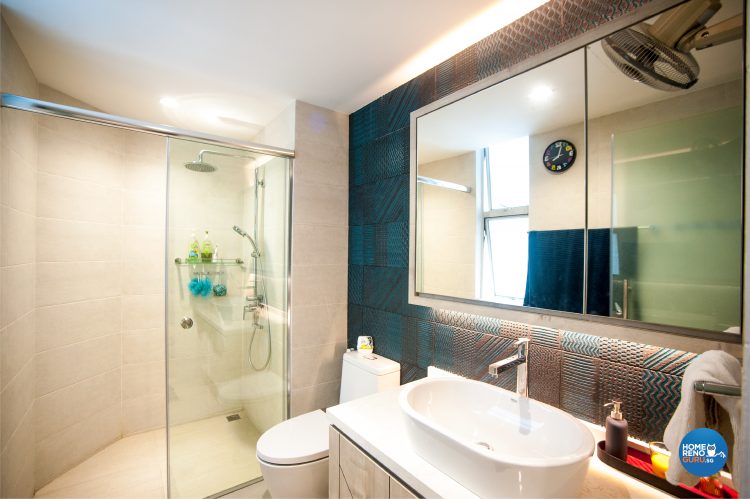 The common bathroom is muted and modern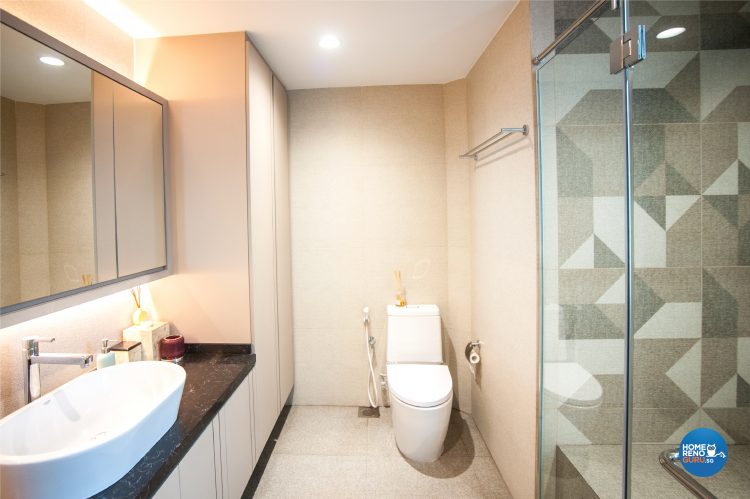 A bathtub was sacrificed in the master bathroom to accommodate a luxuriously large shower with a built-in bench
HomeRenoGuru:
Can you share the highlights of your renovation with us?
Namrata:
For the main entrance we wanted something with a wow factor, and that's exactly what we got.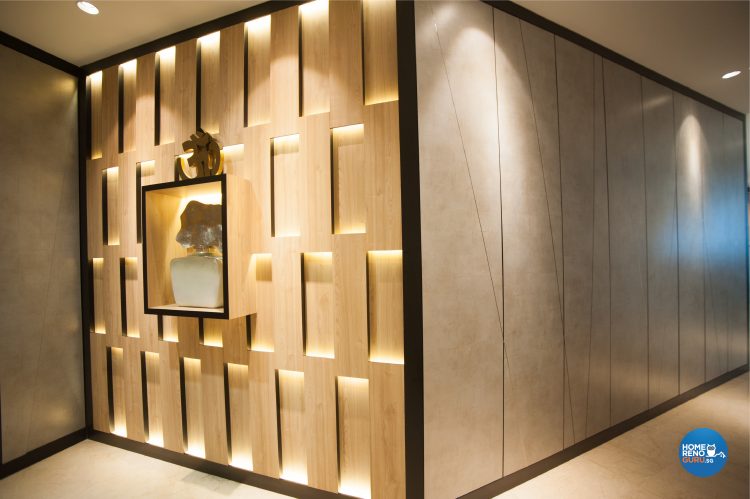 The entrance hall has the wow factor, as ordered
A wall of concealed storage lines the extra-wide, extra-long hallway
Vivek:
For the main living space, Namrata wanted something natural with a touch of colour – and what better than onyx marble. It was tough getting someone to piece it together and even more challenging to get it backlit.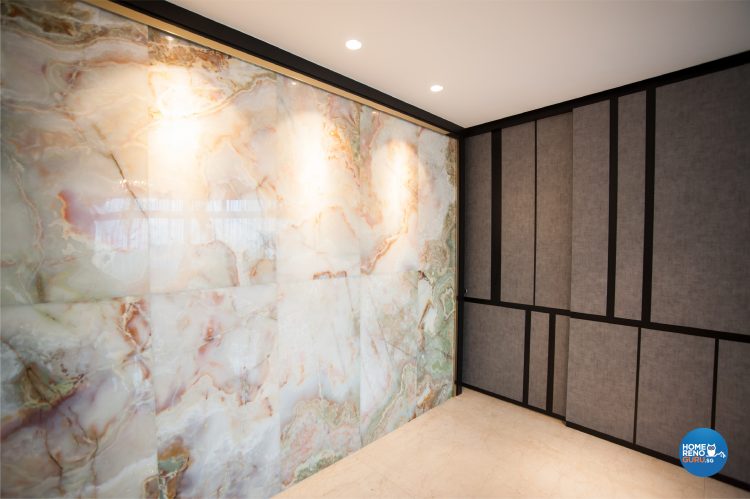 A wall of onyx marble was installed at Namrata's insistence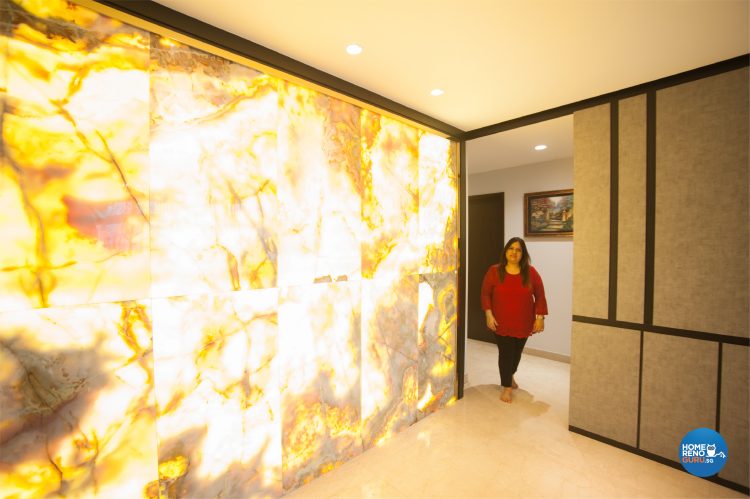 A flick of a switch illuminates the gorgeous natural stone
Namrata:
And as you can see, it's an art piece in itself. I'm so glad that I insisted on the marble.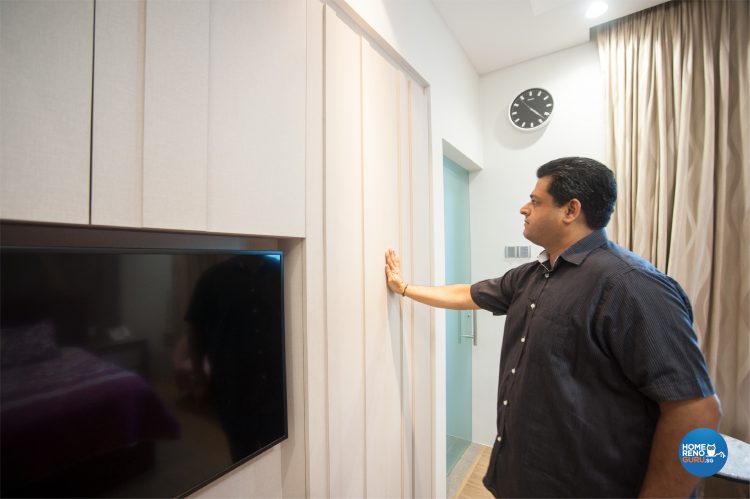 Vivek's built-in robe is concealed behind a TV feature wall
A gentle press opens the door
Vivek:
From personal experience from the previous renovation, we knew the importance of storage. In fact, a wall of concealed storage lines the entire length of the passage. There are many other places of the house where we have used concealed storage. In the master bedroom, for example, my side of the wardrobe is concealed to make it look like a TV feature wall. We also concealed the washer, dryer and the rubbish chute.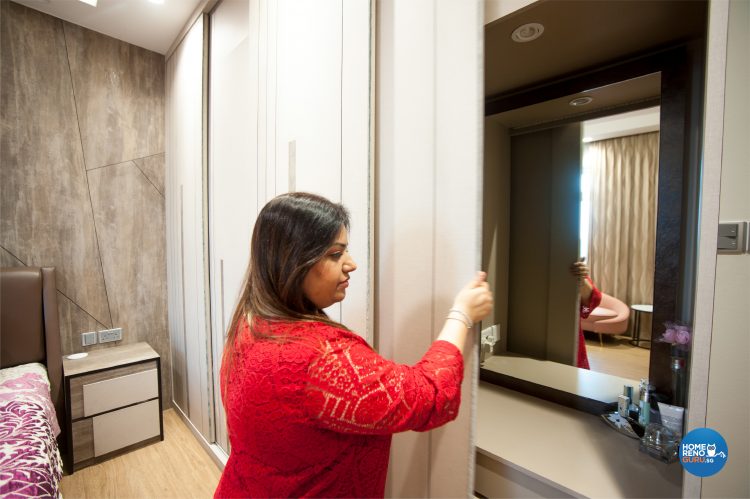 Namrata's built-in dresser is concealed in her wardrobe
A smooth-sliding door opens to reveal a mirror and vanity
Namrata:
Likewise, my dresser is also perfectly concealed within the wardrobe. Now you see it… and now you don't.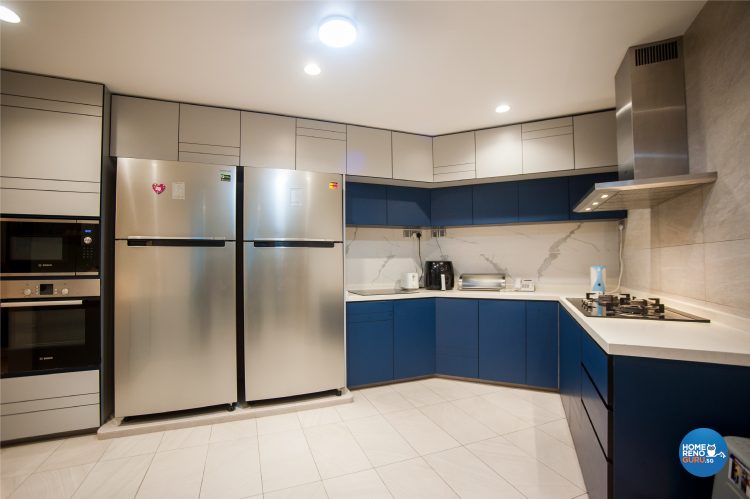 Two walls were hacked to create an expansive kitchen with distinctive royal blue cabinetry
Namrata:
Since I love to cook, I love my kitchen. We hacked two walls to create an open concept and now there's so much space to move around.
HomeRenoGuru:
Do you have any advice you would like to share with homeowners contemplating a renovation?
Namrata:
I think it's very difficult to give advice because home is such an individual thing.
Vivek:
The one thing that we would like to advise homeowners is that you have to set your priorities from the start and never deviate from them.
HomeRenoGuru:
Would you recommend Cadra and Y-Axis ID to other homeowners looking for an interior designer?
Vivek:
We would definitely recommend Cadra from Y-Axis ID to anyone out there considering home renovation.
Namrata:
She has been so supportive and patient right from the start. We wouldn't have been able to do it without her.
Vivek:
Your home will definitely be in good hands.