A Fresh New Look
The new open concept kitchen is flooded with natural light
Name(s) of Homeowner(s):
Veron and Chan Tiong Kang
House Type:
HDB 5-room flat
Size of Home:
1,230 sq ft
Cost of Renovation: $
80,000
Duration of Renovation:
10 weeks
Interior Design Firm:
Le Interi Pte Ltd
Name of Designer(s):
Amelia Neo SiSi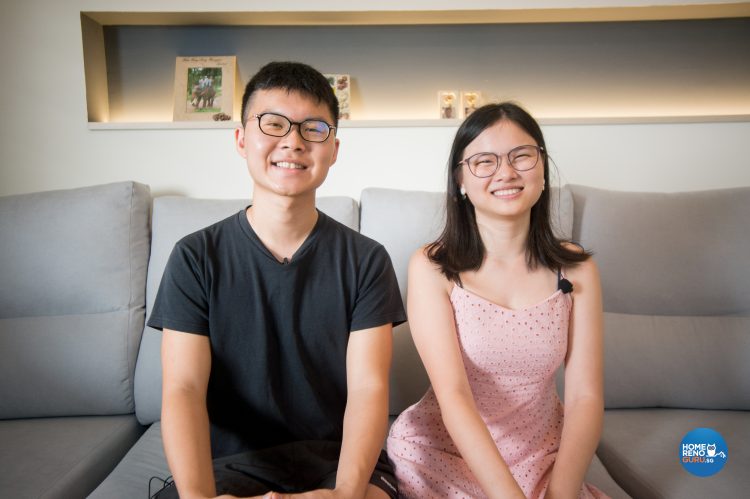 Shao Yang and SiSi from Le Interi
After 20 years of living in the same flat, Shao Yang's family decided it was time to freshen up their home. In the process, they created more spaces for gathering and mingling and strengthened their family ties. Their responsive, responsible and meticulous designer SiSi from Le Interi Pte Ltd supported them all the way, taking their ideas and building on them, literally.
HomeRenoGuru:
What prompted you to renovate your home?
Shao Yang:
After living here with my parents for over 20 years, we decided that it's time to give this place a new look.
HomeRenoGuru:
How did you come to engage Le Interi?
Shao Yang:
We went online to search for a few renovation IDs, but they weren't very suitable for one reason or another. And then it just so happened that one of my uncles recently renovated and he recommended Le Interi's SiSi.
HomeRenoGuru:
What impressed you most about SiSu and clinched your decision to engage Le Interi?
Shao Yang:
When we called SiSi, she actually came down for a site visit. We were very impressed by her attention to detail and her willingness to listen to our ideas. She came down with measurement tools and the floor plan, along with some ideas of her own.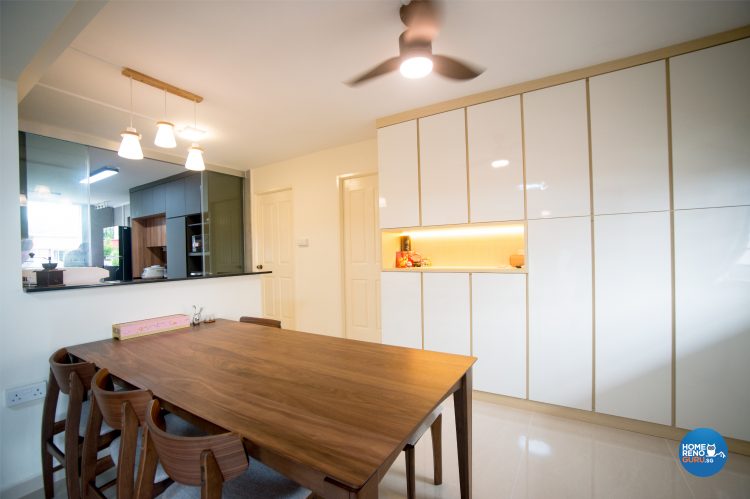 A built-in dining table adjoins the bar counter
HomeRenoGuru:
What was your brief?
Shao Yang:
My parents actually wanted an open kitchen and a bar counter. SiSi took that idea and she built on it. After hacking the existing wall there is actually a lovely view of the treetops and it allows natural sunlight to enter the house, which makes it feel brighter and bigger.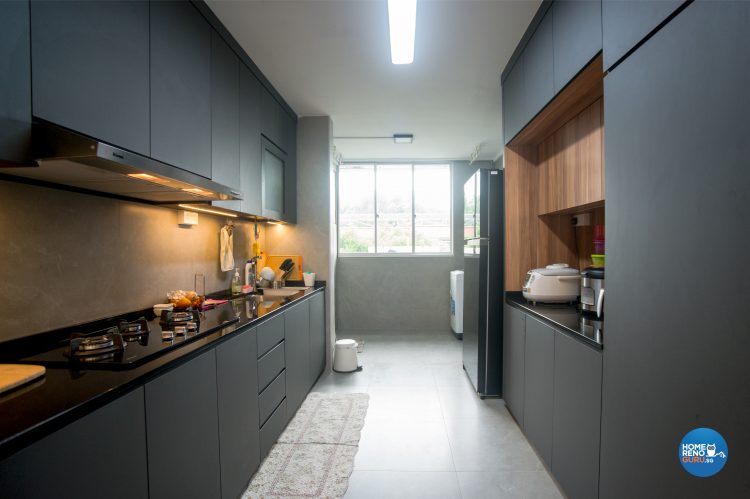 Natural light flows from the utility yard into the kitchen
 HomeRenoGuru:
Did you have any concerns or encounter any hiccups along the way?
Shao Yang:
Initially, we were actually quite concerned that it might stretch beyond three months, which was the targeted date. But they actually surprised us, because they completed it within two and a half months and the process was really smooth. When there were any potential hiccups, they would actually give us a call, get us to come down and check and make sure that everything was smooth and nice.
HomeRenoGuru:
Other than timing, can you cite any concerns in particular?
Shao Yang:
We had a slight concern with the open kitchen concept because my sister and mother love to cook and we try to have home-cooked food as much as we can. Hence we were a bit concerned about the odours spreading out from the kitchen. But SiSi actually suggested to have sliding glass doors, which helped to maintain the open kitchen concept while containing the odours. I thought that was an excellent idea.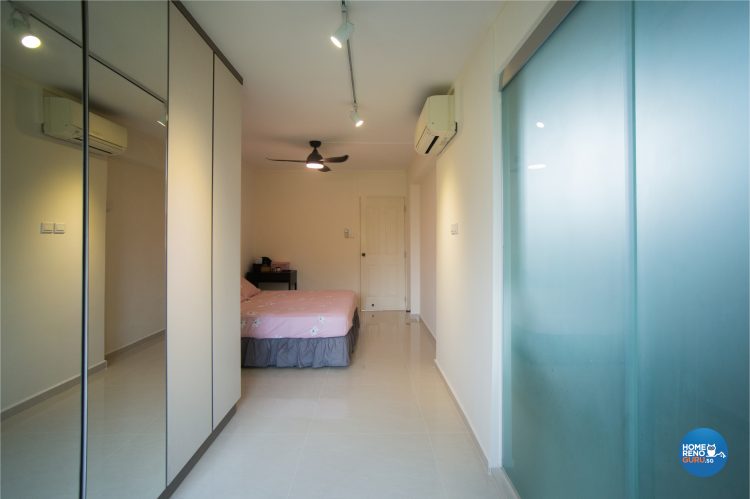 Full-height built-in cabinets maximise storage space in the master bedroom
HomeRenoGuru:
Aside from the kitchen, what do you love most about your renovated home?
Shao Yang:
We love this living area, which was an initiative by SiSi, as well as the dining table adjoining to the bar counter. We find that these spaces created a lot of opportunities for our family members to mingle, which is just fantastic.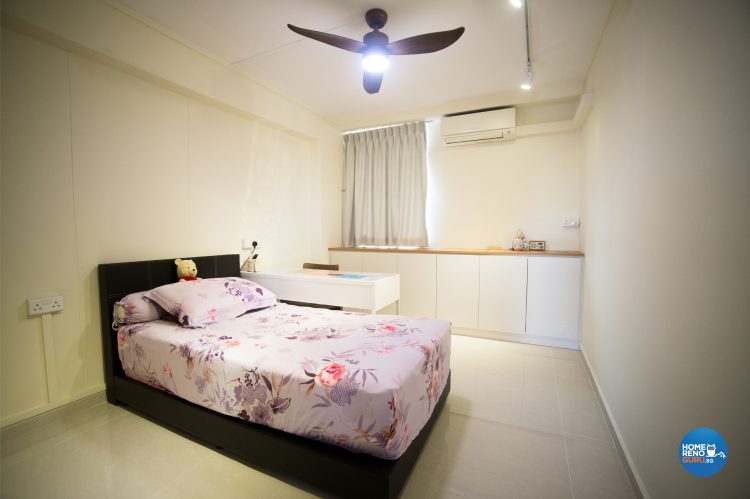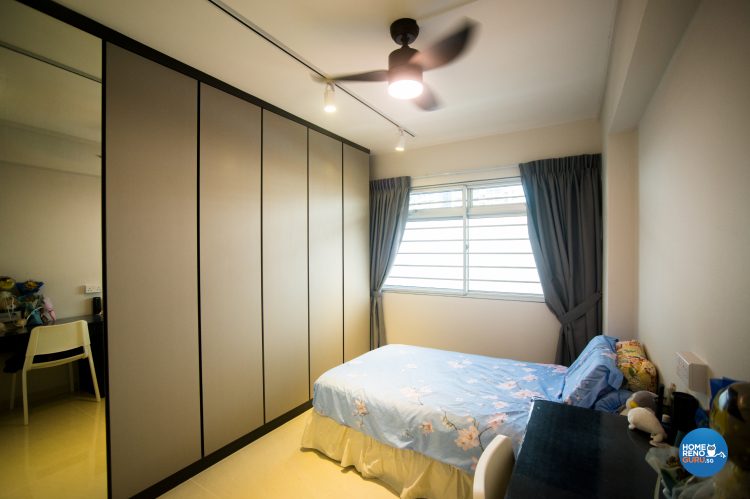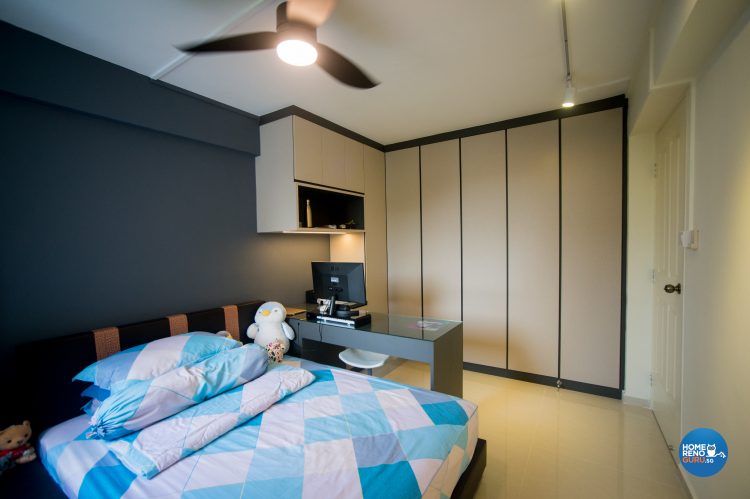 Each additional bedroom features full-height built-in cabinets
With five people living under one roof, it was obviously important for us to maximise the storage space. Therefore we spent a lot of time with SiSi planning and designing concealed storage space. The full-height cabinets in all the bedrooms really help keep things neat and tidy, while helping us manage our time and organise our lives.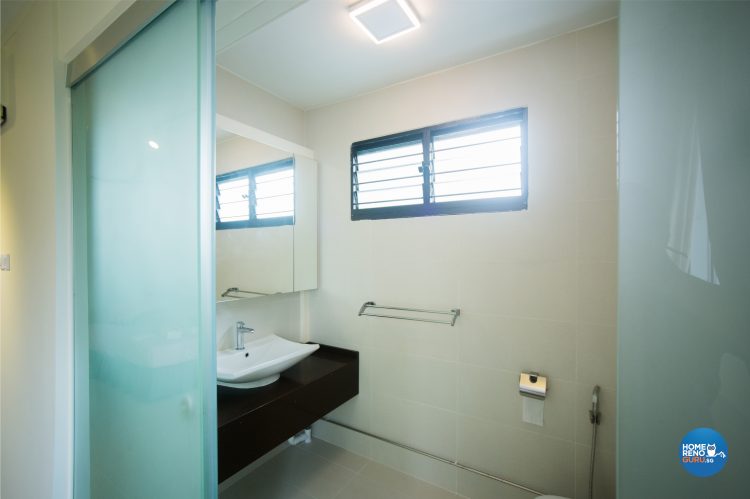 Master bathroom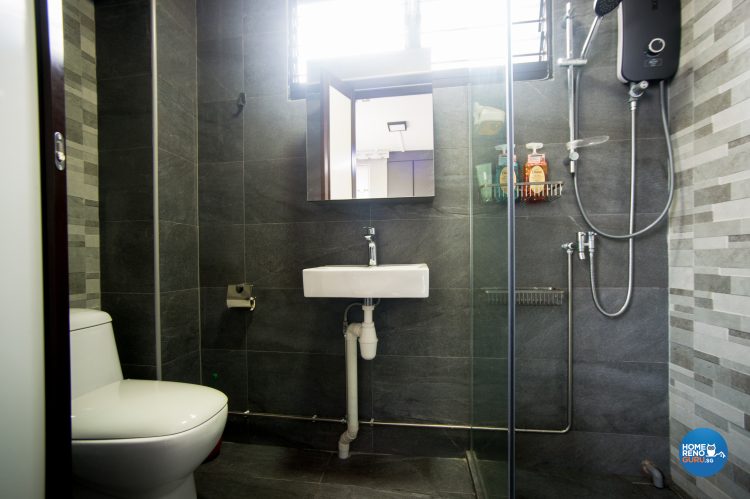 Common bathroom
 HomeRenoGuru:
Do you have any advice for homeowners embarking on a renovation?
Shao Yang:
The planning stage is very important, so never skimp on that. There's also a proper, logical order for executing a renovation, which SiSi was very particular about.
HomeRenoGuru:
Would you recommend SiSi and Le Interi to other homeowners contemplating a renovation?
Shao Yang:
We were very satisfied with SiSi's work, not only the high-quality carpentry but also her initiative in creating communal spaces for family gatherings in our living room as well as the dining area. So I think SiSi did an excellent job. On behalf of my family, we would like to strongly recommend Le Interi and SiSi to any homeowners embarking on a renovation project.