We Love It!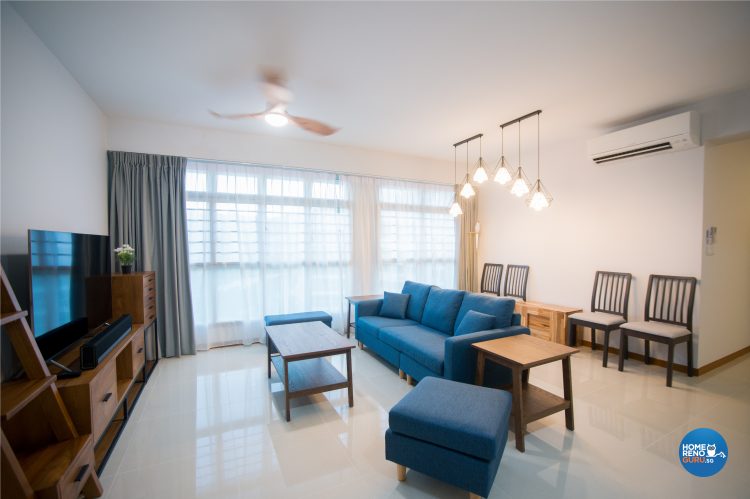 The Scandinavian-inspired open concept living area
Name(s) of Homeowner(s):
Ian and Lynette
House Type:
BTO 5-room HDB
Size of Home:
110 sq/m
Cost of Renovation:
$24,000
Duration of Renovation:
7 weeks
Interior Design Firm:
Great Oasis Interior Design
Name of Designer(s):
Jasmine
Happy homeowners Lynette and Ian
After seeing eight interior designers, Lynette and Ian happened upon Jasmine from Great Oasis Interior Design. With her great listening skills and numerous proactive suggestions, she delivered the Scandinavian-inspired, minimalist home they had in mind – and more.
HomeRenoGuru:
Why did you engage Great Oasis to renovate your home?
Ian:
We engaged Great Oasis after a lot of thinking about which ID to go for. We went and looked at eight IDs, in fact.
Lynette:
Jasmine was the ninth and last one. We almost couldn't meet her but we're so glad that we decided to go and that this collaboration could happen.
HomeRenoGuru:
Can you share your brief to Jasmine?
Ian:
Our brief to Jasmine was that we wanted a Scandinavian, minimalist sort of a feel to our house and that's exactly what she delivered in the end.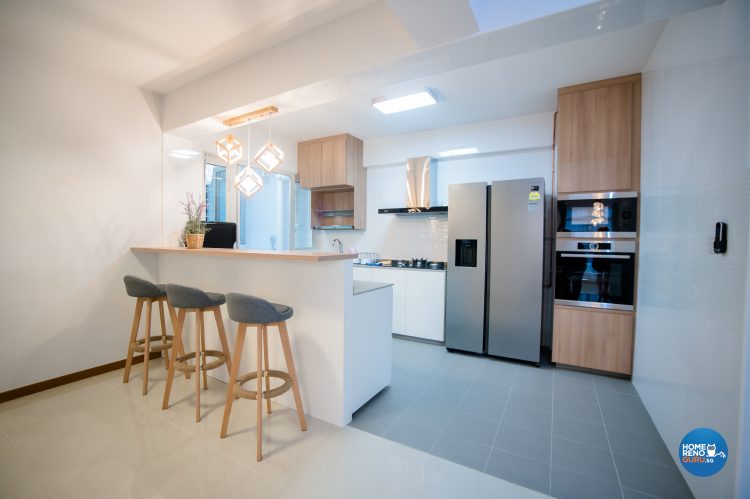 The open concept kitchen is loosely separated by a built-in bar counter
HomeRenoGuru:
What was it like working with Jasmine?
Lynette:
Besides listening to what we wanted for our home, Jasmine also provided us with practical ideas and was very professional throughout.
HomeRenoGuru:
What do you love most about your renovated home?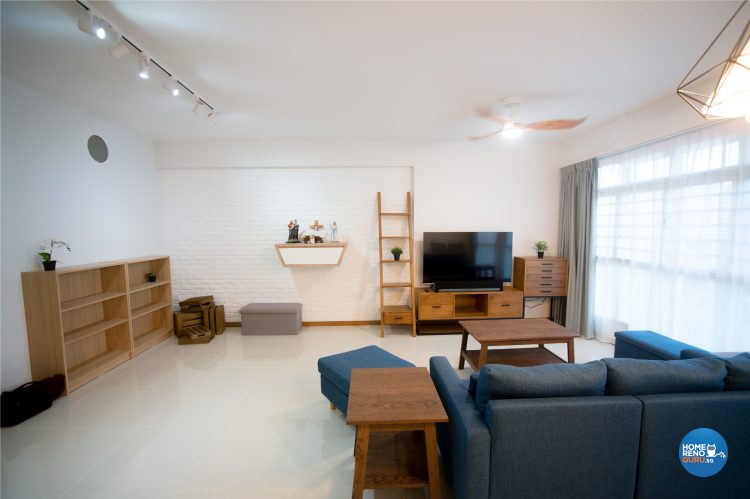 The focal point of the living area is the built-in altar
Ian:
We really wanted the feature in our living room to be the altar, which we shared with Great Oasis. They suggested a brick wall behind it, and that's something we love a lot.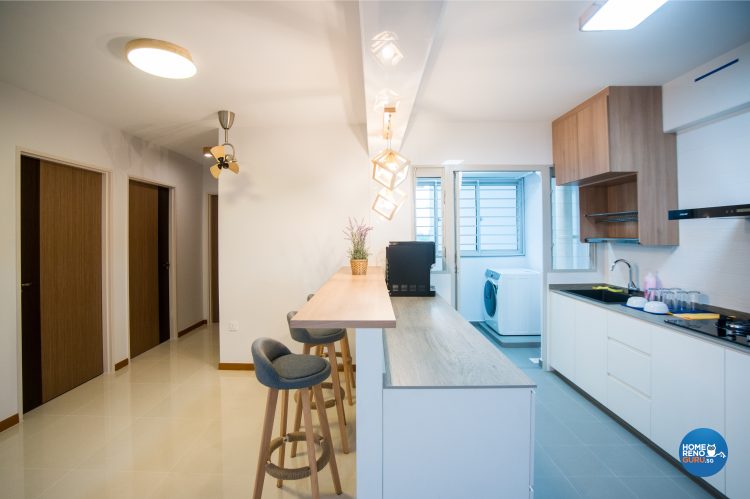 The bar counter is clad in durable dekton
Lynette:
My favourite place in the house would be the kitchen, especially the dekton tops that Jasmine suggested. These tops are very useful and very multi-functional compared to the usual quartz.
Ian:
One of the ideas that we asked Great Oasis to help us with is to have tall drawers for our kitchen cabinets. Reason being that, we have a lot of tall pots that we wanted to use for our cooking and they managed to accommodate them.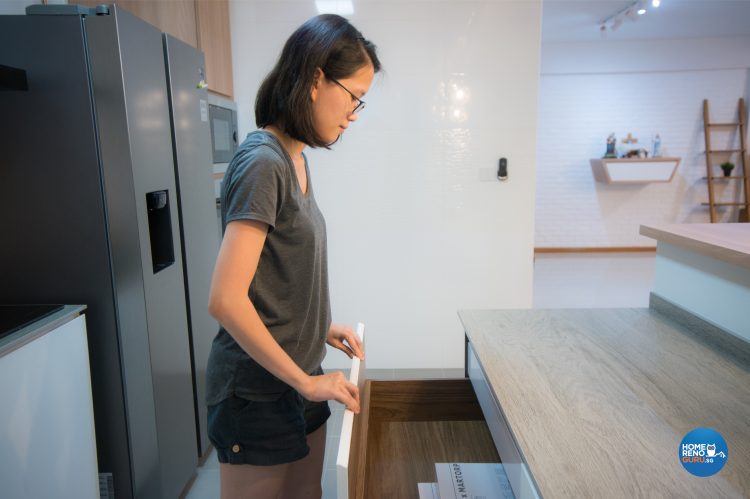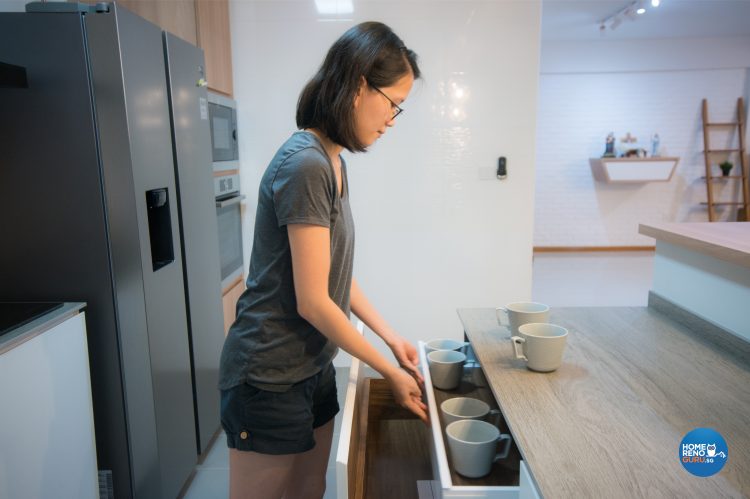 The kitchen features highly functional drawers within drawers
Lynette:
And not only that, we have drawers within drawers as well. These are very functional for daily use.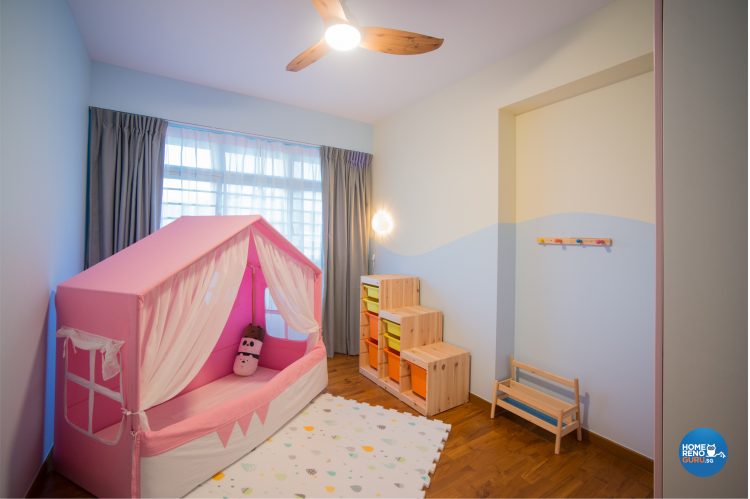 The little girl's bedroom features a pretty wave-themed wall mural
Ian:
One of my favourite rooms in the house is our daughter's bedroom, because of the colours that were suggested by Great Oasis. I really love the wave design that they put in there as well.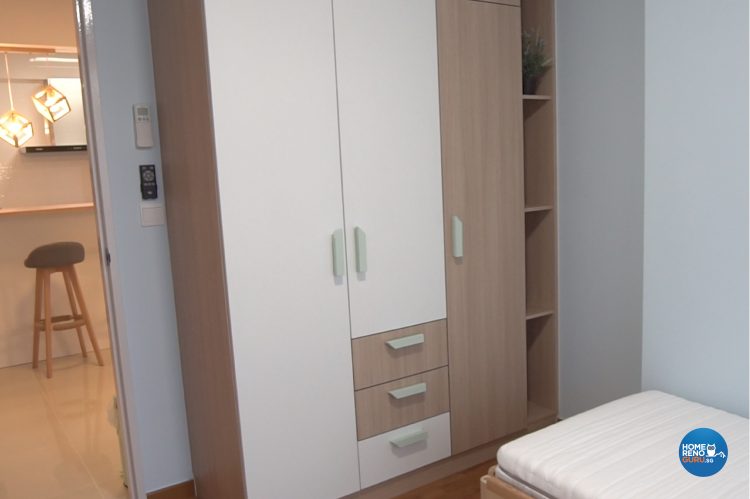 The spare bedroom features a distinctive customised cupboard
Lynette:
Jasmine created this very beautiful cupboard design for us in the other room. The colours really pop, and we love it.
Ian:
We love it a lot!
Lynette:
In our master bathroom, in order to separate the wet and dry area, Jasmine suggested a half-wall. She also chose the tiles with us, which we really love!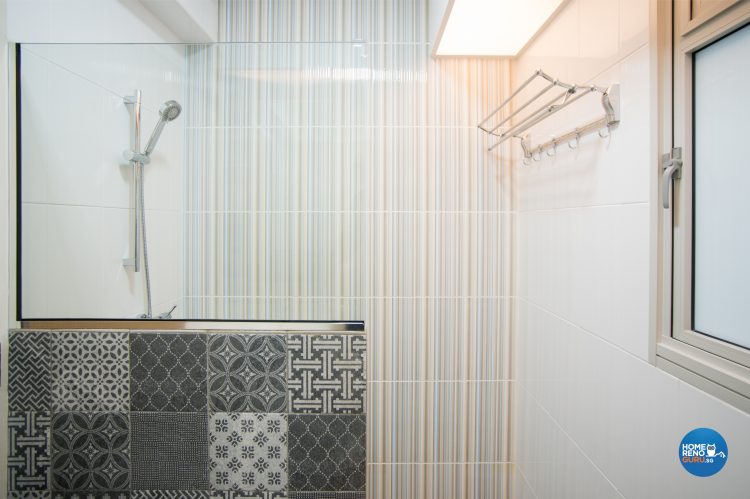 Eye-catching monochromatic patterned tiles dress up the functional half-wall
Ian:
One of Jasmine's many great suggestions was to give us 180-degree hinges for our wardrobe and this really helps to fully utilise the dead space at the corner.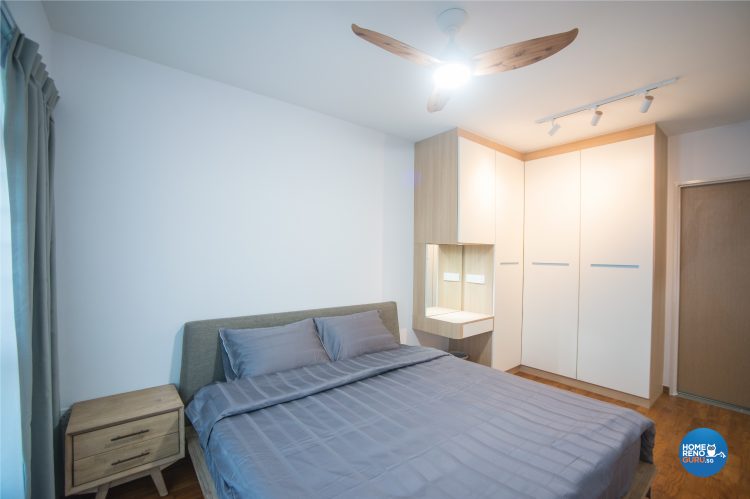 Light blue walls and natural wood create a calm, comfortable environment in the master bedroom
We were really happy with the 3D drawings we got, and in fact there were hardly any changes from the first draft. Honestly, we were worried that it would turn out differently from the 3D drawings. But it all worked out perfectly!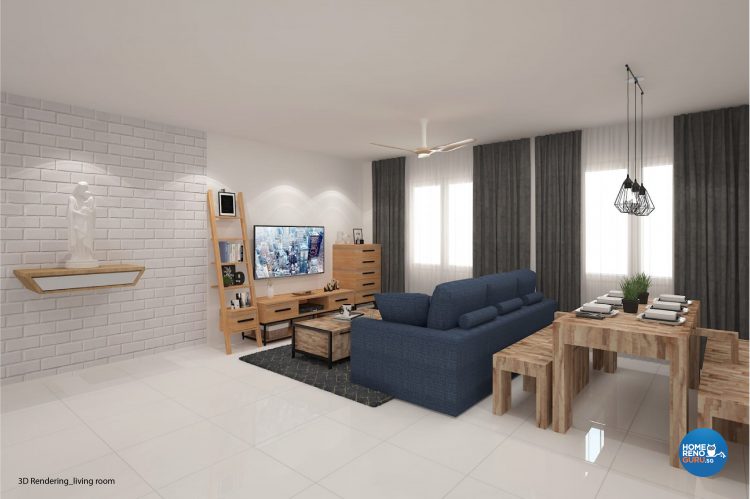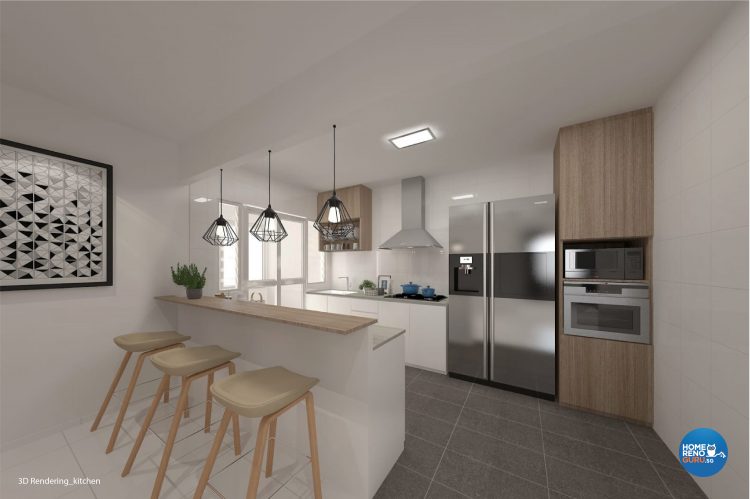 The homeowners were delighted by the fact that the final renovations closely matched these 3D renderings
HomeRenoGuru:
Do you have any advice that you would like to share with homeowners contemplating a renovation?
Lynette:
My advice to new homeowners would be to be open with your designers in terms of talking about what you want. Your home should be functional and practical while looking attractive as well.
HomeRenoGuru:
Would you recommend Great Oasis Interior Design to other homeowners?
Lynette:
We can definitely recommend Great Oasis. Jasmine has been so patient in listening to our needs and very professional as well.
Ian:
She also gave us many great ideas and was very easy to work with. Thank you, Jasmine, and thank you, Great Oasis!