Choosing the Right Paints for your Wall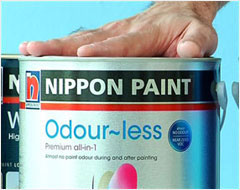 Nippon Paint prides itself on being at the forefront of breakthroughs in paint technology.
Here is a selection of some of the most popular and technologically advanced DIY paints we offer:
Odourless Premium all-in-1. This is the most premium interior emulsion paint. Not only does it have all-in-1 properties such as washability, coverage of hairline cracks and anti-bacterial properties, it has almost no odour during and after painting and has a near-zero VOC or volatile organic content level. This is very ideal for homes with young children, as well as offices to minimise disruptions.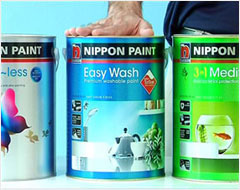 We also have Easy Wash with Teflon. It has excellent washability properties – the toughest of the lot. It is ideal for children's play areas, kitchens and other areas that require regular cleaning.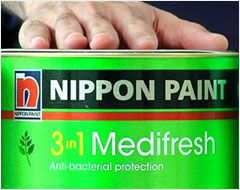 3-in-1 Medifresh. This paint contains an anti-bacterial formula that lasts for 5 years. It is ideal for creating a safe haven for children and the elderly alike. It is also washable and covers hairline cracks.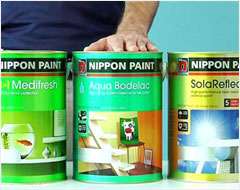 We also have Aqua Bodelac – a wood and metal paint. Aqua Bodelac is one of our latest breakthroughs in paint technology. It is as tough and durable as Bodelac 9000 – the enamel-based wood and metal paint. Yet it is an emulsion-based paint. This makes it environmentally friendly, low in odour, easier to apply and greatly shortens recoating time.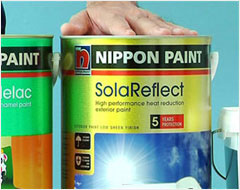 And next, SolaReflect. SolaReflect is our latest breakthrough in exterior paint technology, applied on masonry surfaces such as cement and plastered walls. It can reduce surface temperature by as much as 5 degrees Celsius, and this in turn reduces the amount of energy needed to cool the interior of homes, thus making it a leading green paint. This is on top of its anti-algae and anti-mould properties, and is extremely durable especially in our harsh climate. To crown it all, it even comes with a 5-year warranty.